FLUX:: Framework 20.12 Major Update
Today we are pleased to officially announce our new Framework 20.12 Major Update.
All FLUX::  Immersive software relies on FLUX:: proprietary framework, holding 20 years of constant evolution supporting the stream of new requirements. The FLUX:: development team has endlessly continued with the maintenance and evolution of the FLUX:: framework, which is forging the base of our product releases, plugins as well as stand-alone applications. Be it new or upgraded DSP platforms, new major versions of operating systems, or anything else needed to be improved in order to continue providing the functionality and compatibility you've come to expect using FLUX:: software.
The new FLUX:: 20.12 framework, providing a vast range of improvements, new features and enhancements, is a major stability and compatibility upgrade improving the performance for all FLUX:: Immersive software products on the latest versions of Windows and macOS, including official Catalina, Big Sur, and Apple notarization support.
With the 20.12 update a revised versioning system is introduced, to simplify the understanding of when the software was released. The version number consists of the year and the month of the actual software release date, ie. 20.12, 20 for the year 2020, 12 for the month, and the last 5 digits presenting the build number.
Power and Performance Improvements 20.12 Update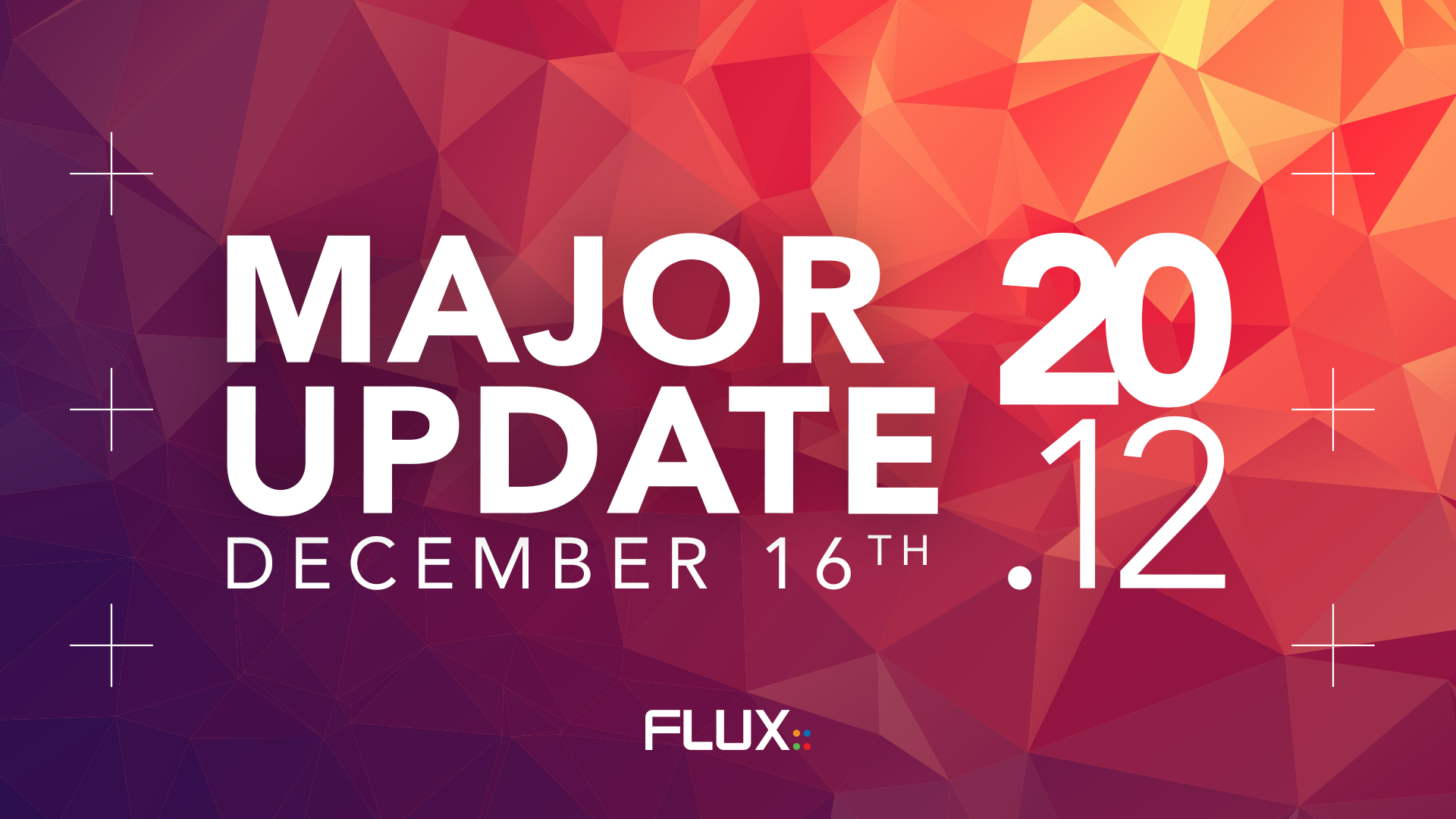 Power and Performance Improvements
The latest update includes a hardening with all latest operating systems (OS) and DAWs, with MacOS Catalina, Big Sur and Apple notarization official support.
A new versioning system and support and upgrade contract, including 1 year of free support and updates with a perpetual license purchase, is introduced.
More Information
Greatly improved performance (CPU, GPU, memory usage)
Many internal improvements and optimizations
HiDPI / Retina support
macOS Catalina, Big Sur and Apple notarization support
Big Sur and Apple Silicon support (via Rosetta, native ARM coming soon)
Built-in error reporting tools for FLUX:: applications
Hardening with all latest operating systems (OS) and DAW
New V20.12 release (new versioning system), now including 1 year of support and upgrade with perpetual license purchase
FLUX:: IRCAM Spat Revolution 20.12
Analyze your streams and broadcasts like never before!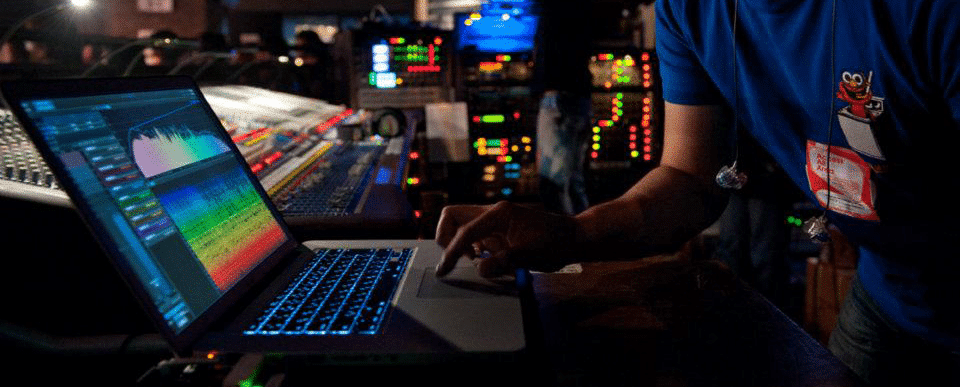 Loudness Metering
Getting your streams and broadcast levels at the right spot is key to the user experience.
The new FLUX:: Analyzer 20.12 now provides improvements to loudness metering with Loudness Normalization Metering and improved readability and new label mode for consistency across the platforms.
More Information
Loudness metering conformance mode for streaming and broadcast platforms

AES Streaming, Apple, Amazon, Deezer, Netflix, Spotify, TIDAL, YouTube

Revised loudness meter display
Perceptual colormaps (2) to spectrogram for improved readability
Musical note peak display (label mode)
External IR loading in snapshots
visualizing them as impulse responses and magnitude spectra
HiDPI / Retina support
The Next Generation Real-Time Analyzer System got a Boost!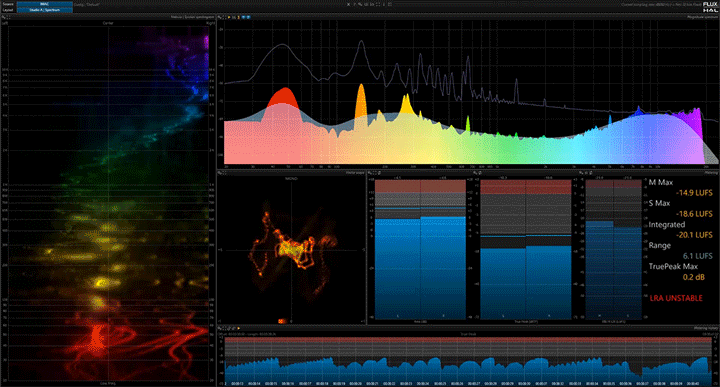 High Precision
The Flux:: Analyzer System comprised of a standard and a High Precision (64 bit) version for detailed analysis and measurement, improving spectrum display interpolation and pure spectrum mode sidelobe analysis, and many other optimizations.
Now supporting OSC commands!
More Information
FLUX Analyser and Analyser High Precision (64 bit)
Improved spectrum display interpolation
Improved pure spectrum mode sidelobe analysis
Spectrum Frequency scale start at 0Hz
Limit generator output level to prevent sound card clipping
Smoother generator volume changes
New main menu on macOS (Edit and View Menu)
New I/O layout preferences
OSC support
FLUX:: Immersive Plugins Update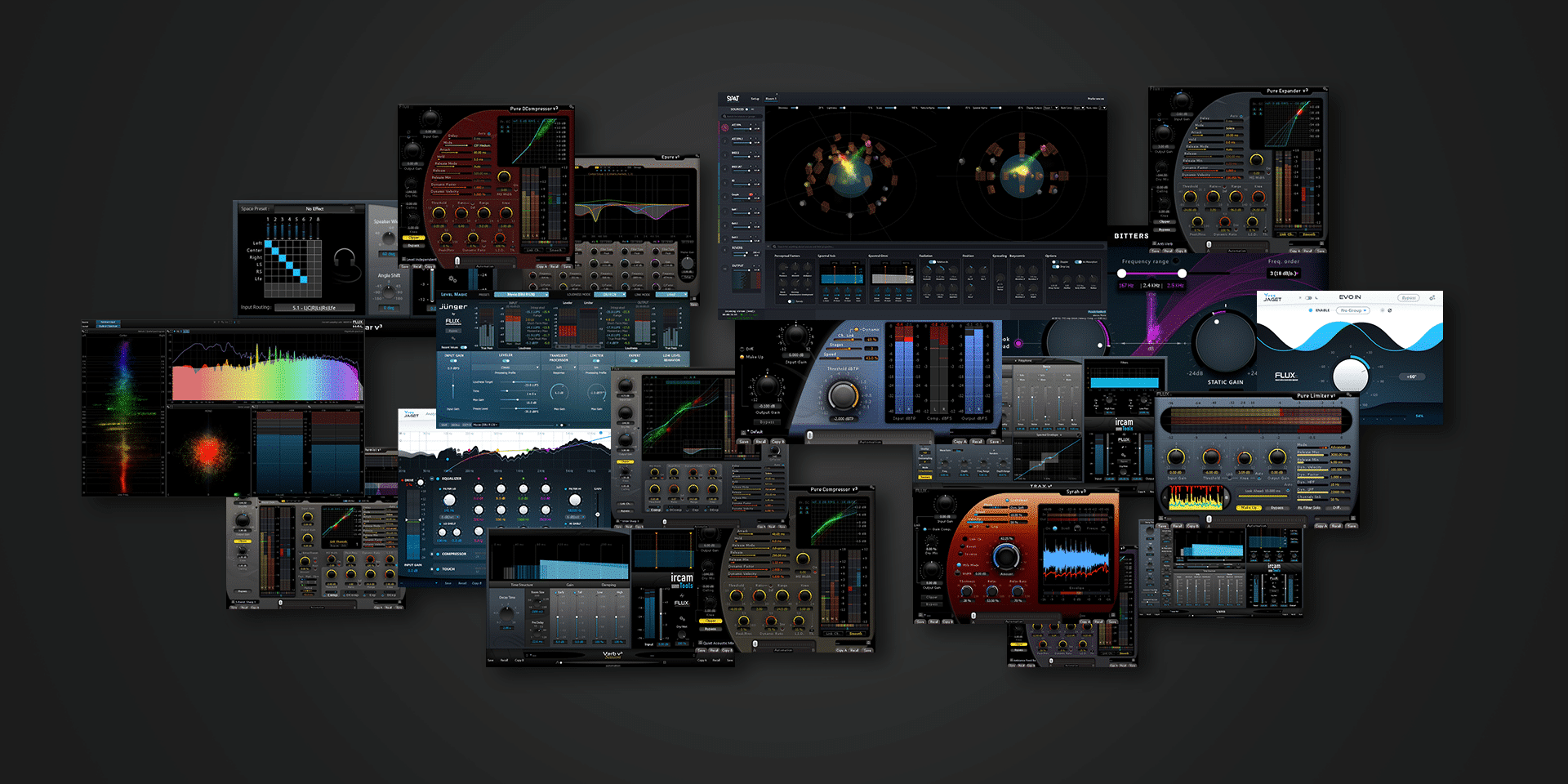 Immersive Audio Multichannel Support
Immersive Audio now being the "New Norm" brings enhancements and more multichannel support in our audio processing tools.
Now support for HiDPI / Retina and OSC Control.
More Information
Most plugins support of 8 channel
16 channel support for FLUX:: Bittersweet Pro, Evo In and Evo Channel
IRCAM Verb support for Dolby Atmos, Multichannel support up to 16 channels
IRCAM Hear – Multichannel stability improvement, Now up to 10 channels
IRCAM Tools – Audio I/O Matrix and Multichannel enhancement
Add scale factor combo in the plugin setup
Avid Page Table unification for Avid Control, S1, S3, S4, S6 and S6L.
OSC Control for plugin
HiDPI / Retina support + display enhancements and fixes
IRCAM Spat v3 (Plugin) – End of life, with crossgrade offers to Spat Revolution (Perpetual / Subscription)
New Support and Software Upgrade Contract
Together with the versioning system, a new support and software upgrade contract is introduced, which is now included when purchasing a software license. Purchasing a perpetual license includes one year of support and free software upgrades. As with our subscription plans, support and upgrade are included and assures that you are always up to date with the latest software development which includes host and operating system compatibility updates and feature updates
The 20.12 is a free upgrade for all customers who currently own an active perpetual license or has an active subscription plan.
Download and Installation
All FLUX:: software is downloaded and installed using the FLUX:: Center Download and Installation manager. FLUX:: Center is available (free) on our download page, and as all our software, supporting Windows and macOS.