SPAT Revolution 23.11 – Available Now!
Are you ready to record?
We are delighted to release SPAT Revolution 23.11 – A free upgrade (requires 22.9 license), introducing a new record feature for recording of the audio from the input, room, master, transcoder, and the output audio modules directly into SPAT Revolution, and many other new things.
From Creation to Real-time Immersive Delivery
Empowering artists, sound-designers and sound-engineers virtually unlimited possibilities to design, create and mix an outstanding real-time immersive experience.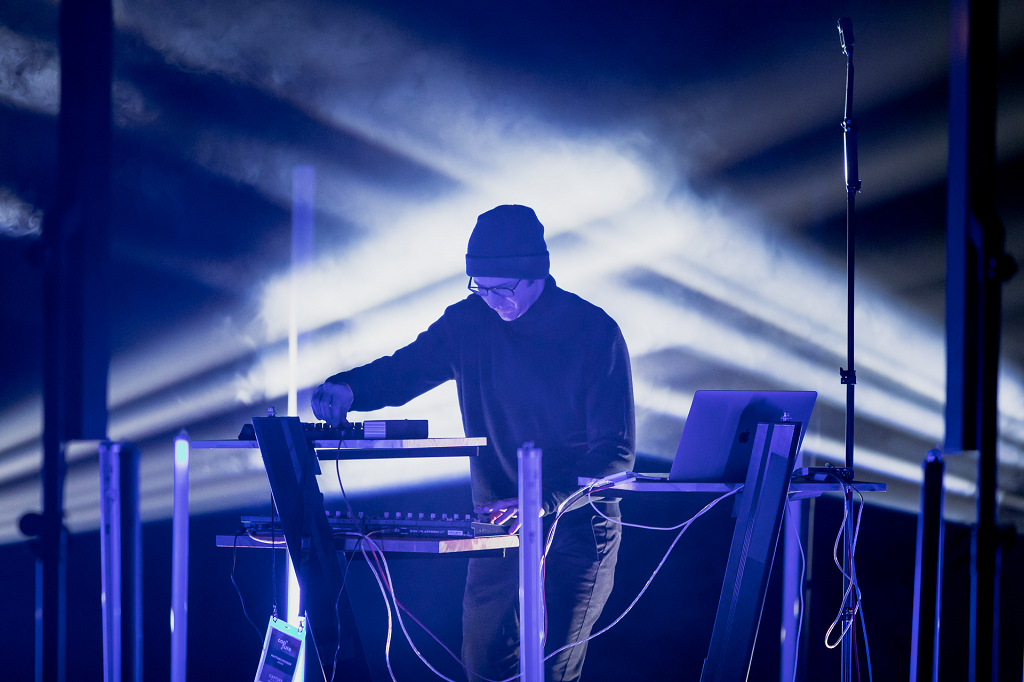 (Éléphantmat – crédit Photo Louis Lefranc)
For a wide-span of Immersive creation and production use cases
Live concert production and diffusion

Music mixing for multi rendering format

Sound design for film, music and theatre

AR/VR production

Audio for gaming

Binaural for artist monitoring and audience experience

Spatial audio composition for sound installations

360 audio/video production

Scientific research and development

Audio-visual immersive experience installations

Corporate events and installations.

Interactive sound creations & environmental sound

Broadcasting 3D audio shows and concerts
Bring a sense of space and depth to your mix with the next generation audio mixing concepts
A revolutionary object & perceptual immersive mixing tool redefining the way of mixing where you intuitively position objects in spaces and let the acoustic signature of the room build the desired depth
Bring your various audio sources as objects moving into a virtual space in a output format agnostic way while allowing you to create acoustic space (reverberation) with localized reflections.
It simply means spaciousness to your mix from multiple sound source formats supported.
More Info
Mono, stereo or multi-channel objects

A-Format microphone support with input transcoder


Sennheiser Ambeo

Soundfield ST250, ST450 and SPS200

Core Sound TetraMic

DPA-4 Microphone

Oktava MK4012

Rode NT SF1

High Order Ambisonic  (HOA) 2D/3D, Up to 7th order with input transcoder 

AmbiX (SN2D/SN3D, ACN)

B-Format (FUMA, FMH)

Input transcoder with;

FUMA, MaxN, N2D/N3D, SN2D/SN3D normalization option

ACN, FMH and SID sorting options

Yaw, Pitch Roll control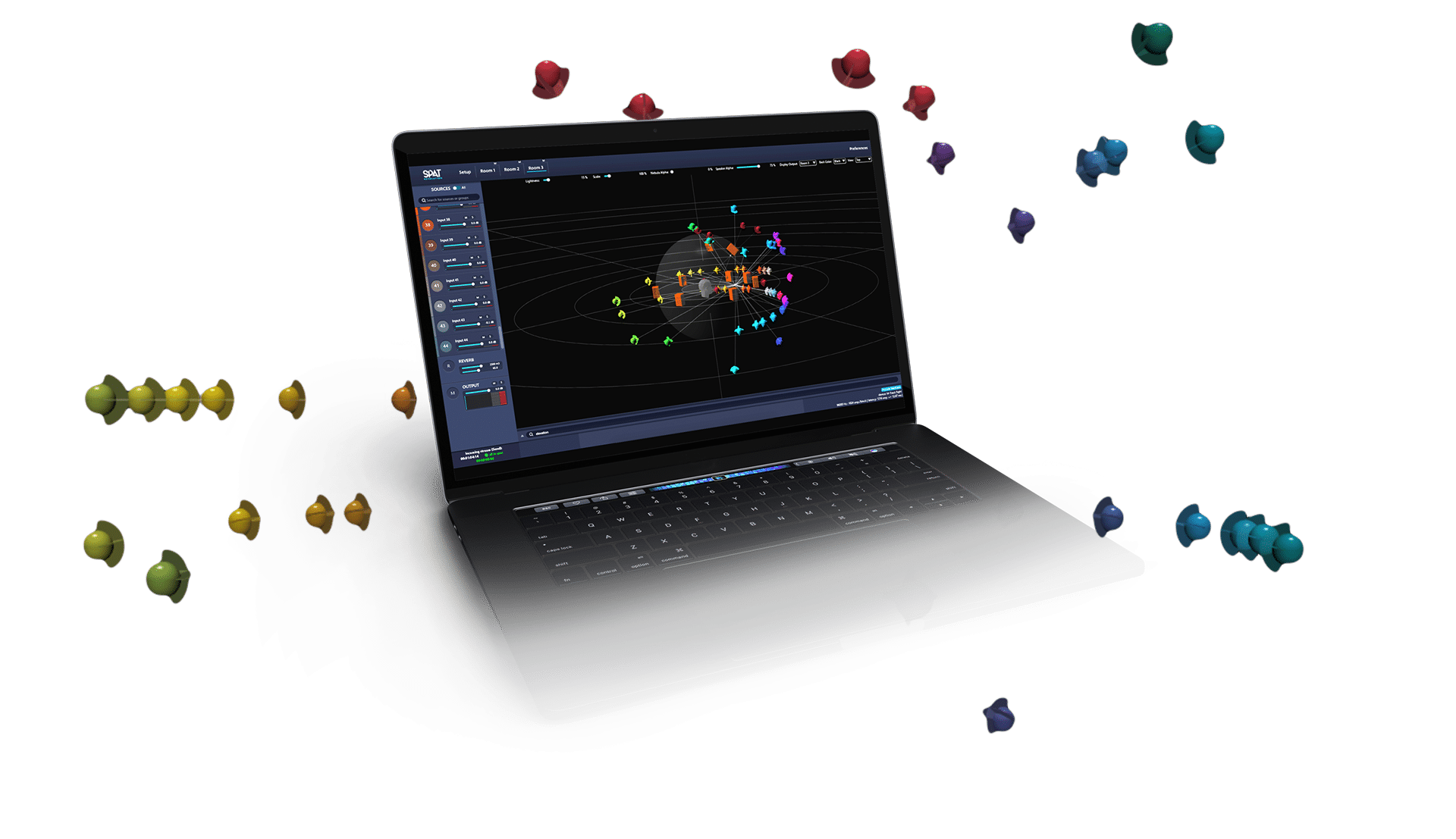 The most wanted Panning methods and Spatialization techniques at your fingertips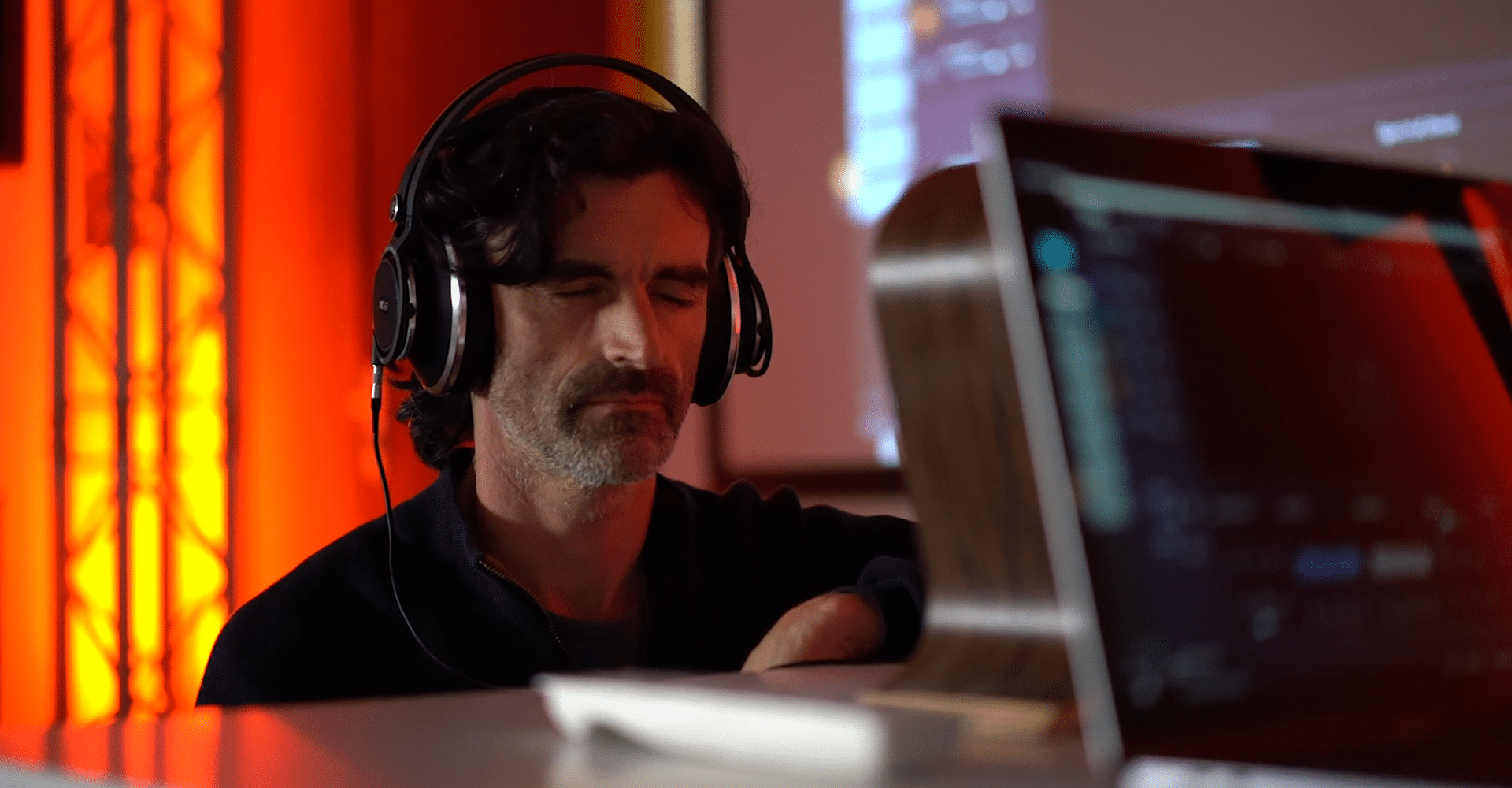 Render for various deliverables
Audio is literally living a paradigm shift, moving beyond stereo to various spatial audio techniques.  At the core of SPAT Revolution is a desire not to impose on panning methods and spatialization techniques rather to offer a wide range of possibilities,  including panning techniques for working with audiences in wide areas not confined to traditional sweet spots for live and installation setups.
Being for improving the frontal resolution for concert diffusion, to immerse the audience with surround audio, to render to any channel-based or scene-based formats, to deliver spatial audio over headphones, SPAT Revolution simply opens up to the most advanced techniques and brings them to your fingertips.
Deliver a stable soundscape throughout an entire listening area with WFS
With today's demand for the entertainment to completely immerse the audience in the experience, and for producing a stable soundscape image throughout an entire audience listening area, the distinctive WFS , Wave Field Synthesis technique for spatial audio reproduction is offered as a license add-on option to SPAT Revolution Ultimate offer.
WFS aims to reproduce the true physical attributes of a given sound field (the waves front) over an extended listening area, an approach that relies on delay and amplitude. It is deployed on collinear speaker systems (line of speakers in a frontal setting) and with qualified 2D/3D speaker arrangements surrounding the audience.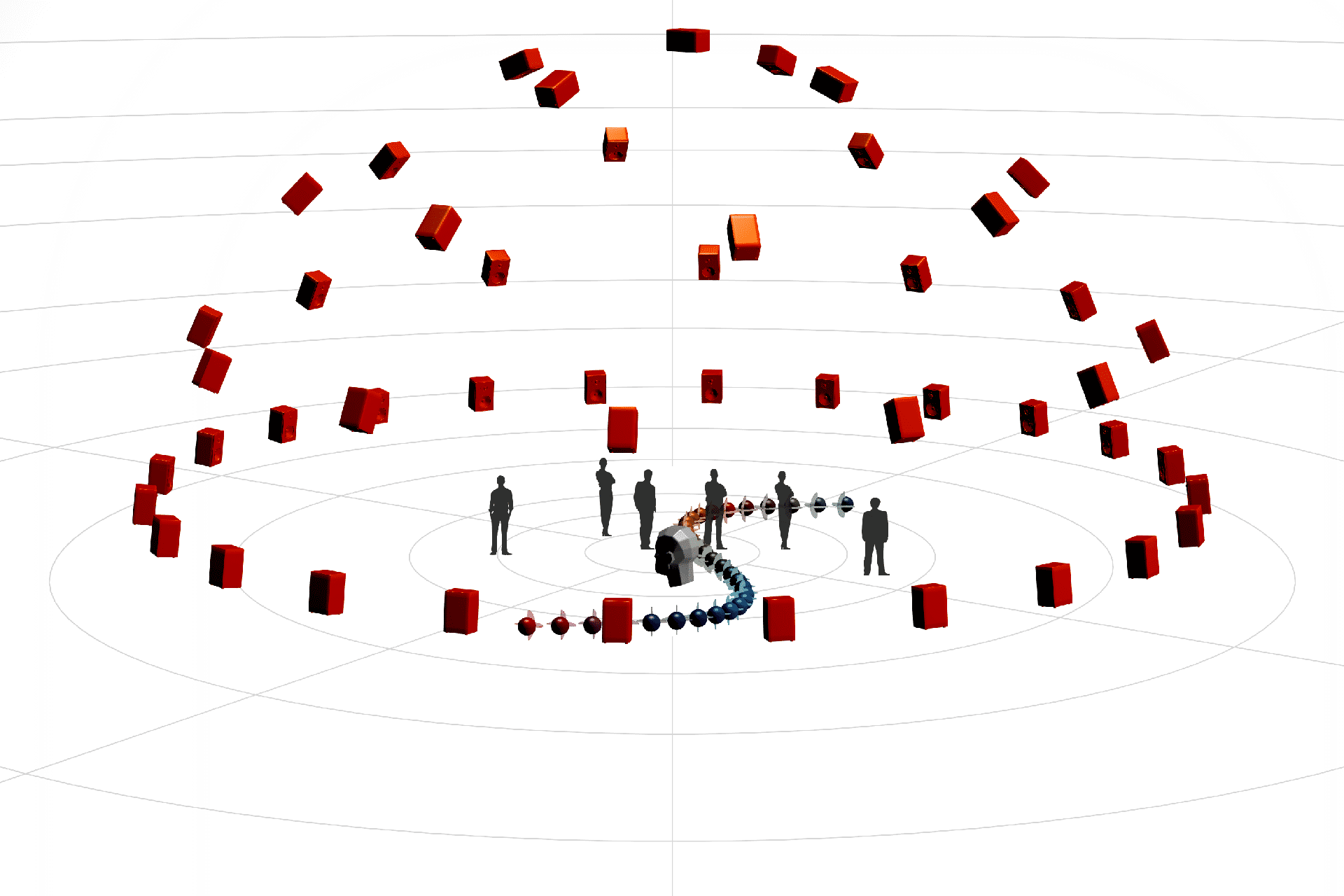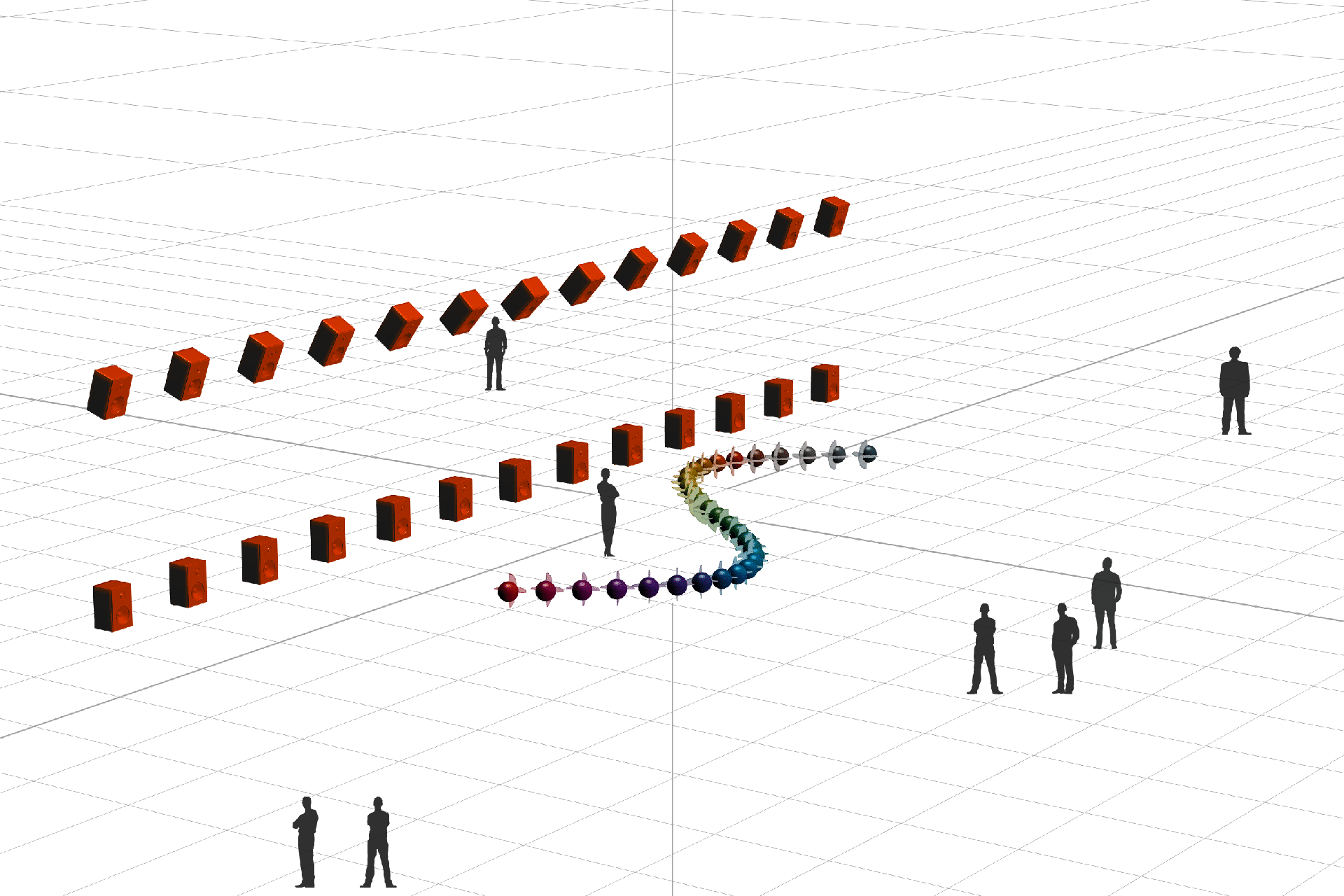 From decades of groundbreaking research at Ircam
SPAT Revolution is the result of a successful partnership between FLUX:: Engineering and the French research institute Ircam (Institute for Research and Coordination in Acoustics/Music), created to make decades of groundbreaking research performed at Ircam available to the world in a format adapted for the workflow in the digital music and audio industry.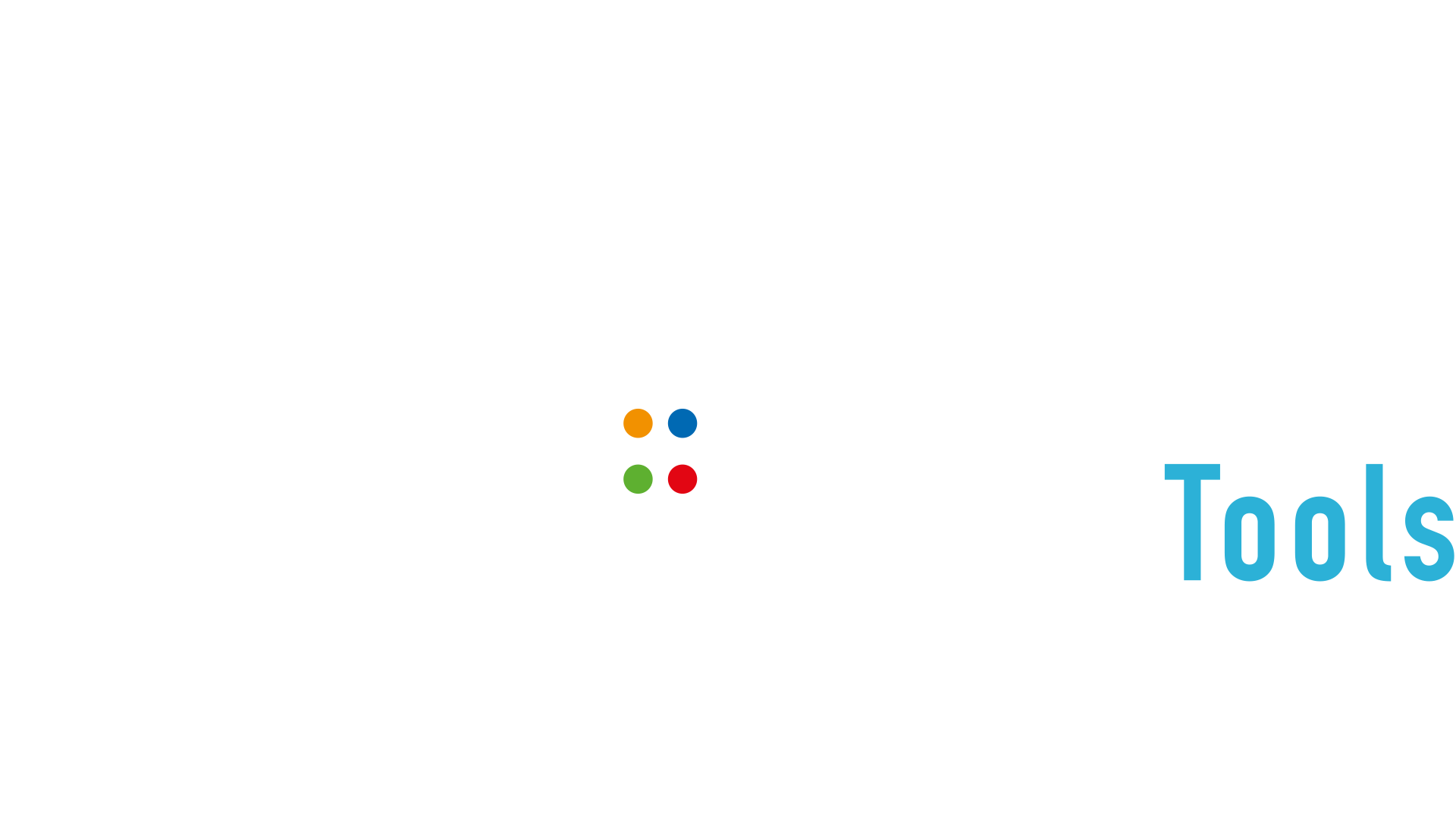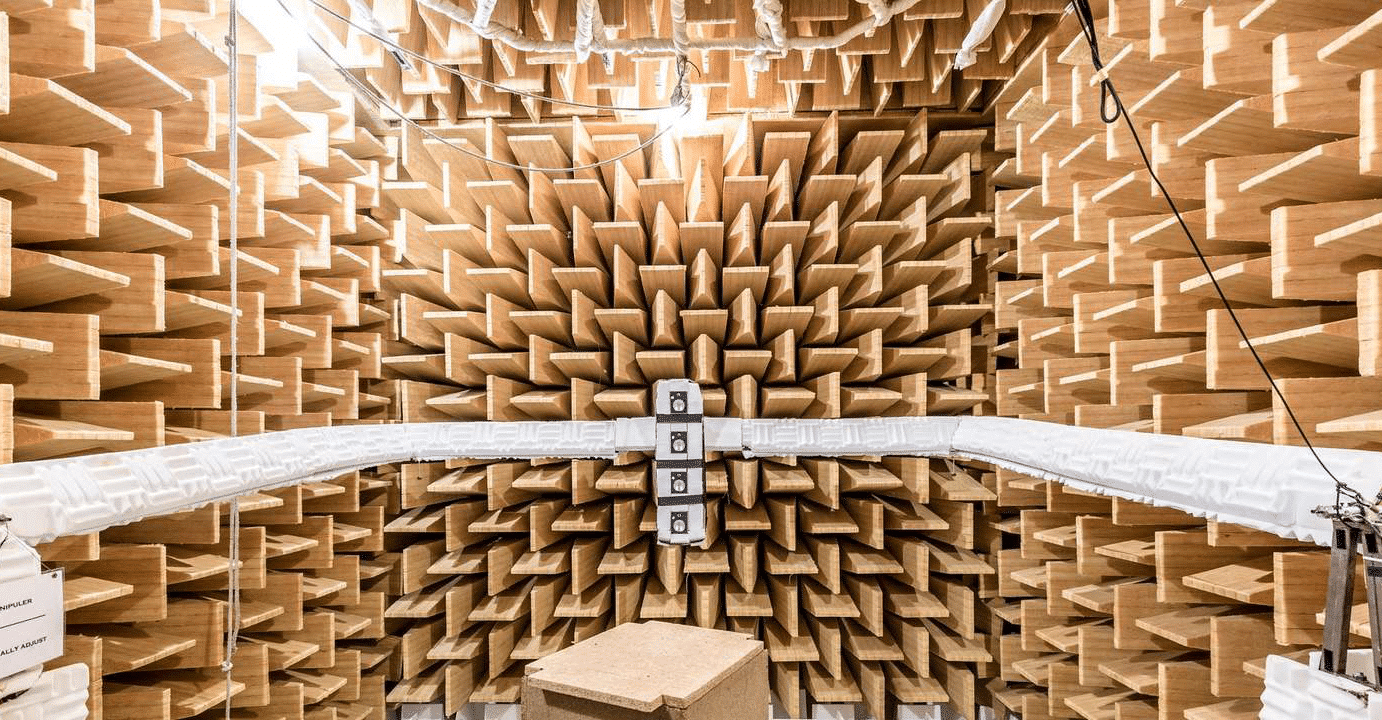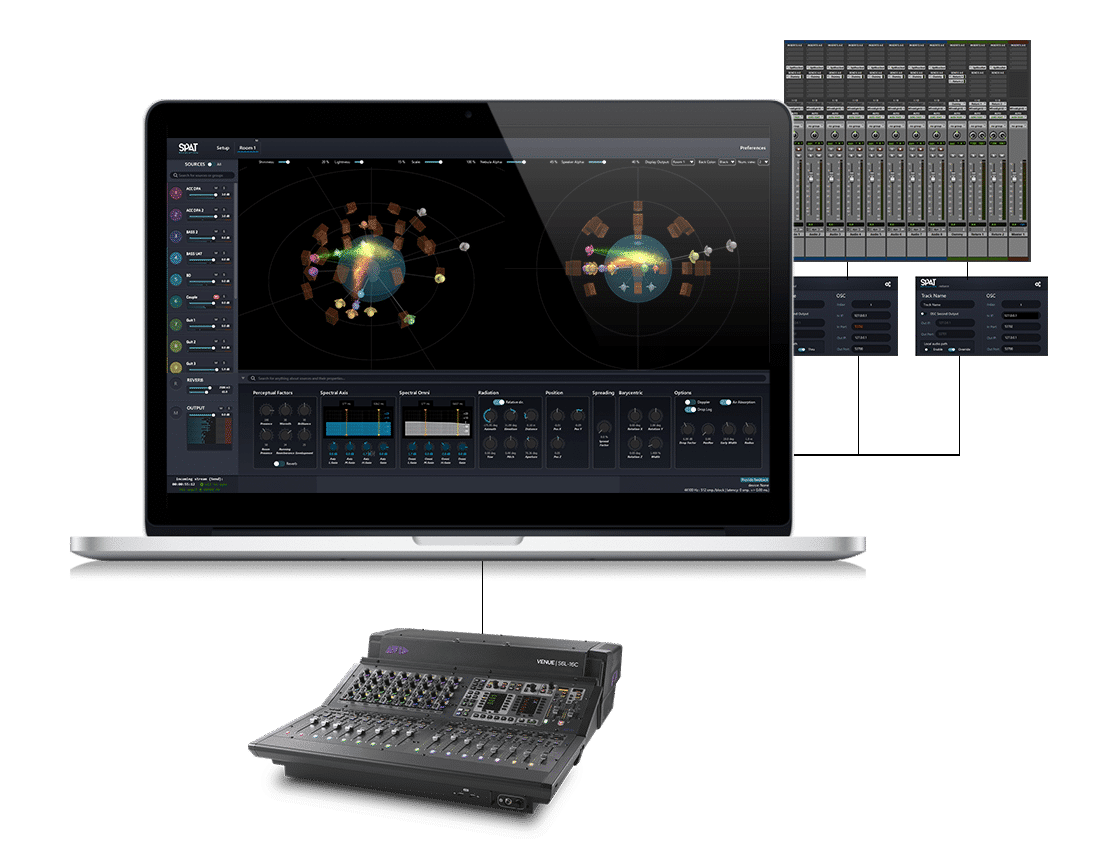 Designed to integrate into any workflow
Rapidly deploy and manage your object-based mix session using a simple setup wizard using your physical or virtual audio interface of choice as your hardware I/O or vastly expand your DAW's capabilities using SPAT plugin suites (AAX, AU, VST) and audio pipe technology for software audio routing and parameters automation
Add remote integration using control devices, show control application, trajectory software and digital mixing consoles over the network, through the Open Sound Control (OSC) protocol.
Take advantage of ReaVolution, a Reaper package for SPAT Revolution facilitating the setup, integration, and workflow for immersive audio creation and production
More Information:
Use your audio interface of choice for real-time processing

Support of different Input and Output hardware devices

Integrate with virtually any DAW and External Controllers 

Use integration templates for various third-party tools

ReaVolution

, A 

100% Freeware

customization of Reaper available to users to make the integration of SPAT Immersive workflow

Live Console template for Avid VENUE S6L, DiGiCo SD and SSL Live

Configure with a simple Setup Wizard to rapidly create sessions with your desired formats.

Manage your speaker arrangements from predefined to custom..

Input naming and I/O matrix windows for configuring hardware patches

Drag and Drop module feature
Main Features
Two license options to choose from
c
| | | |
| --- | --- | --- |
| SPAT Revolution Essential |   | SPAT Revolution Ultimate |
| Single virtual room environment |   | Multi virtual room environments |
| Deliver channel-base, binaural and ambisonic up to 3rd order |   | Deliver simultaneously for channel-base, binaural and ambisonic up to 7th order |
| Channel-based predefined and custom setups up to 16ch. (including Dolby Atmos) |   | Channel-based  predefined and custom setups up to 128ch |
| Up to 32 audio input channels |   | Unlimited audio channels |
| Virtualization of speaker setup (binaural monitoring) |   | Multi environment virtualization (binaural monitoring) |
| Complete HRTF management (Listen library) with SOFA import  |   | Complete HRTF management (Listen library) with SOFA import |
| OSC integration |   | OSC and RTTrPM tracking integration |
| OSC custom transformations |   | OSC custom transformations |
| Nebula Spatial Spectrogram |   | Nebula Spatial Spectrogram |
| WFS Technology Add-on Option Support | | WFS Technology Add-on Option Support |
options and
Available as perpetual, subscription, and subscription with rent to own option – Educational program offer available.
Speaker Configuration Management
Import speaker arrangements from simulation software of Adamson Blueprint AV, CODA Audio, Nexo NS-1, d&b audiotechnik, EASE, or simply, from Excel

Speaker arrangement panning tips and validation guidelines

Per speaker channel mute option in the virtual room

Modify your speaker arrangements with offset, mirror, scale and many more transformations

Add speakers in batches with various uniform distribution types

Insert background images of various size to your room arrangement with scaling and offset options

Objects, Snapshots and Transformation
Deploy new ways to manage your object-based mix with the snapshot system. Change an audio mix scene with snapshot recall with interpolation time done manually, via OSC or with touch remote control (ex: Lemur). To facilitate transformations like moving sources, source transform feature, with an interpolation time, allows you to manipulate sources/objects positions
Virtual mixing room environment with source and speaker name tag 

Snapshot system giving the ability to create static images and recall with interpolation time

Source transformation for source/object action with interpolation time

iOS remote templates (Lemur) for touch interface to controlling sources and snapshots (with Multi-touch template)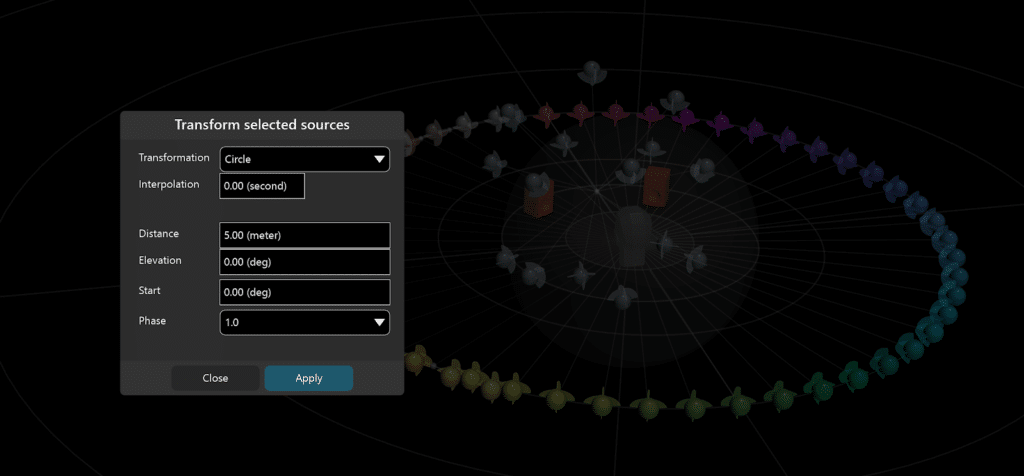 Powerful OSC interpreter and Real-time tracking system
8 OSC Connections

BlackTrax Real Time Tracking RTTrPM Protocol input (Ultimate only)

Sources and Listener positions tracking in 6 DOF

IRCAM ADMix, SPAT and Meyer SpaceMap Go OSC grammar on input.

ADM-OSC support on input and output

OSC Output options for Auto-Bundle and Touch/Release messages

OSC presets for SPAT plug-ins, Lemur controllers, Avid S6L, Digico, SSL Live and ADM-OSC

OSC transformation allowing for value rescaling, offsetting, converting and much more

Use control OSC messages (index -1) for active selection.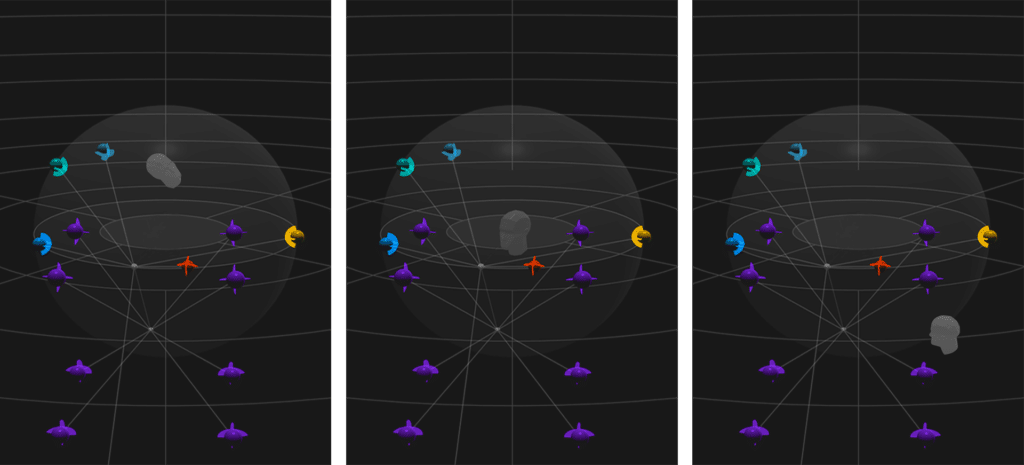 Encoding and Decoding with Transcoding Modules
SPAT Revolution objects stream type can span from many types of microphones, arrays, HOA captures, and from any type of pre-produced stems. It can render content in HOA up to 7th order. Supporting a vast range of stream formats, transcoder modules allow modification of the channel count of the stream passing through it, depending on the format transfer being requested. For example, transcoding from Ambisonic B-Format into a Channel Based 3D Cube involves a four-channel Ambisonic stream getting transcoded into an eight-channel stream grouped and treated as a specific speaker configuration.
See Specifications for SPAT Revolution Essential limitations.
A-Format microphone support:
Sennheiser Ambeo

Soundfield

Core Sound

DPA Oktava 

Røde
Steam type Input to Output transcoding
A-Format to B-Format

A/B-Format to Channel Based

A/B-Format to HOA

B-Format to UHJ

Binaural to Transaural

Channel Based (C.B) to Channel Based; Channel splitter aggregator

HOA to Channel-based

HOA to HOA for conversion of normalization, channel-arrangement, 2D/3D 

HOA presets for AmbiX, A & B-Format 

Mid/Side (MS) to Channel Based

UHJ to B-Format
Decoding Methods:
Projection

Regularized Pseudo-Inverse

Energy preserving

AllRad

Improved AllRAD
Decoding Type:
Basic

InPhase

MaxRe

BasicMaxRe

MaxReInPhase

InPhaseMaxRe type
Normalization options:
Sorting options:
Multi-Virtual Room (Ultimate Only)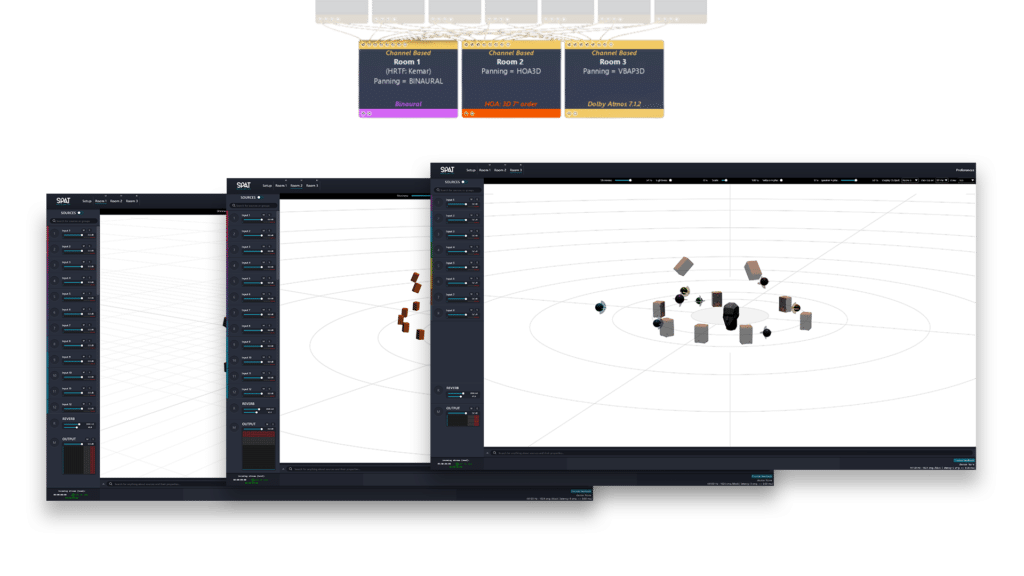 In SPAT Revolution the source objects are spatialized inside virtual rooms with spatial positioning, panning, reverberation and output format taken into consideration when calculating the output rendering.
In order to encompass various different workflows or render different deliverables, multiple rooms can be created and used simultaneously, in parallel, with individual independent output formats.
Summing this up is the ability to binaurally monitor (virtualize) a scene from a channel based output, giving an impression of how the mix might sound diffused by a particular speaker arrangement (including the space between speakers and gain characteristics belonging to selected panning types).
Unique Nebula Spatial Spectrogram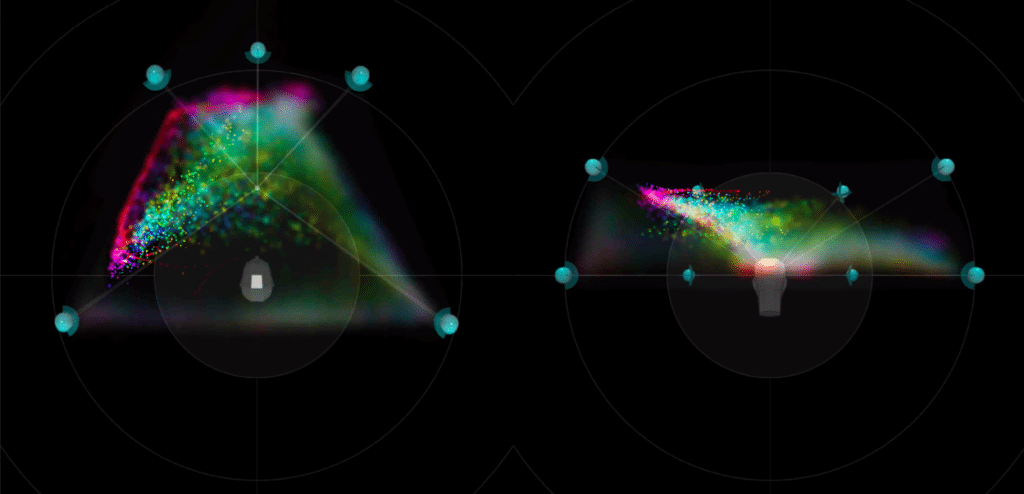 Nebula is a technology adapted from FLUX:: Analyzer System, simulating how sound sources localize their  sound over different speaker setups, providing a unique representation of the sound-field, in terms of spectral content and localization, in real-time inside the 3D virtual room display.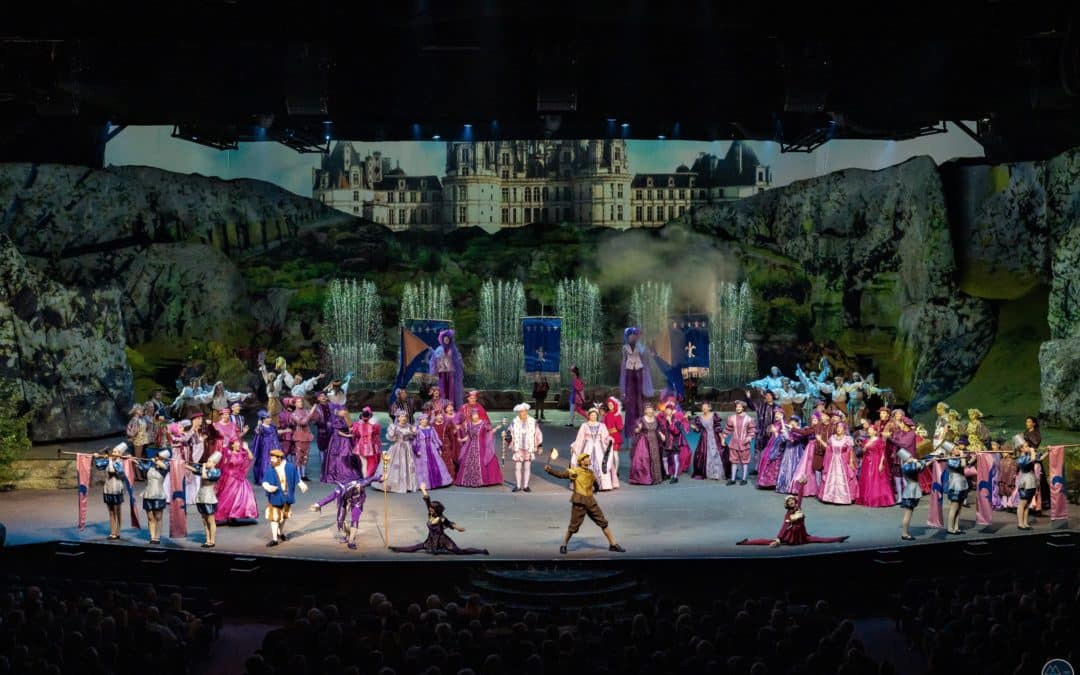 La Fabuleuse Histoire d'un Royaume, the unique historical theatrical extravaganza production on the creation and evolution of the Saguenay Lac-St-Jean in Quebec, Canada, celebrates their 35 years in show with an immersive upgrade of their sound system. The show, seen...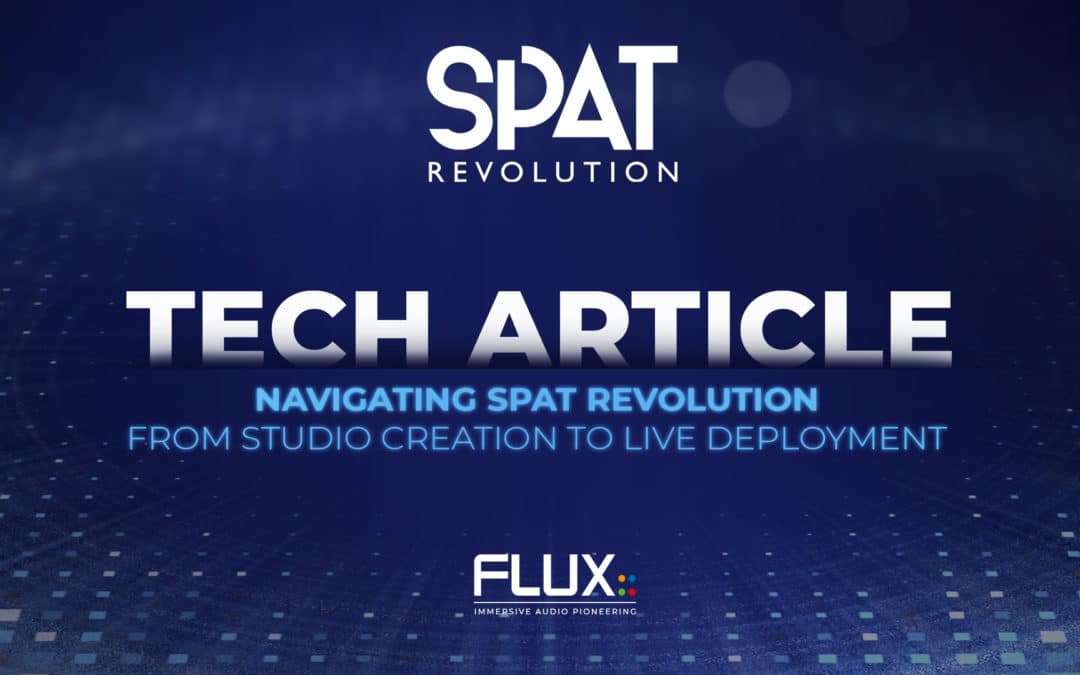 In the realm of audio production, the transition from the controlled studio environment to the variety of live setup deployment choices poses a pivotal challenge. This challenge becomes particularly significant when working with SPAT Revolution and its ability to...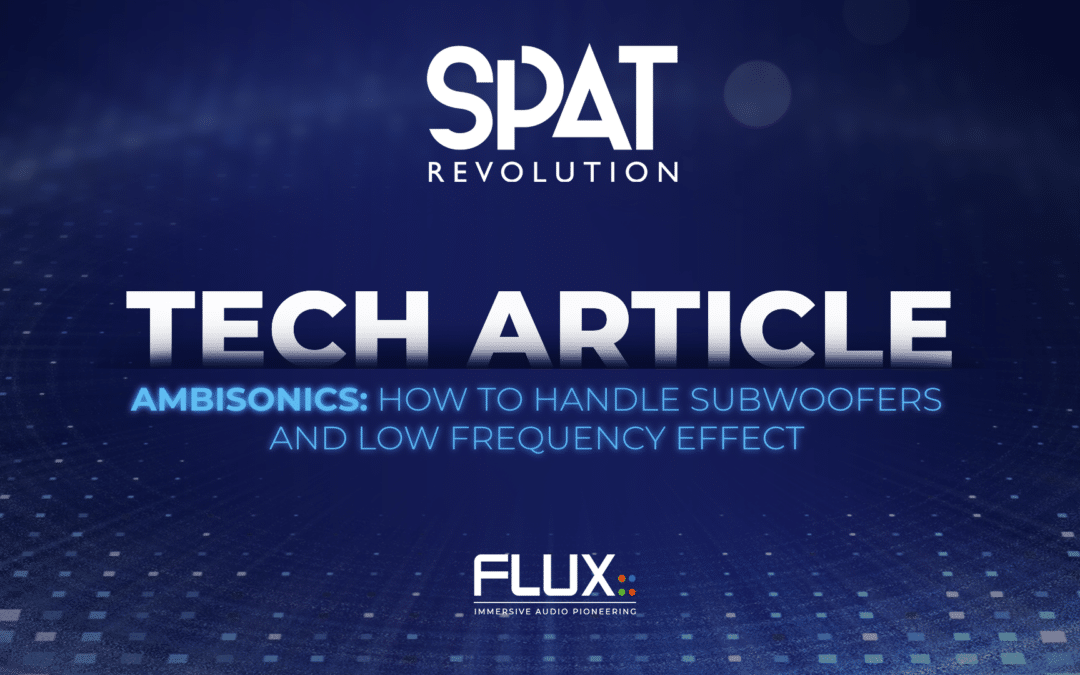 In this article, we will look at different methods to handle subwoofer and bass extension when dealing with Ambisonics in SPAT Revolution. Specifically, we will investigate solutions at the reproduction stage as well as the creation stage. LFE vs Bass Management...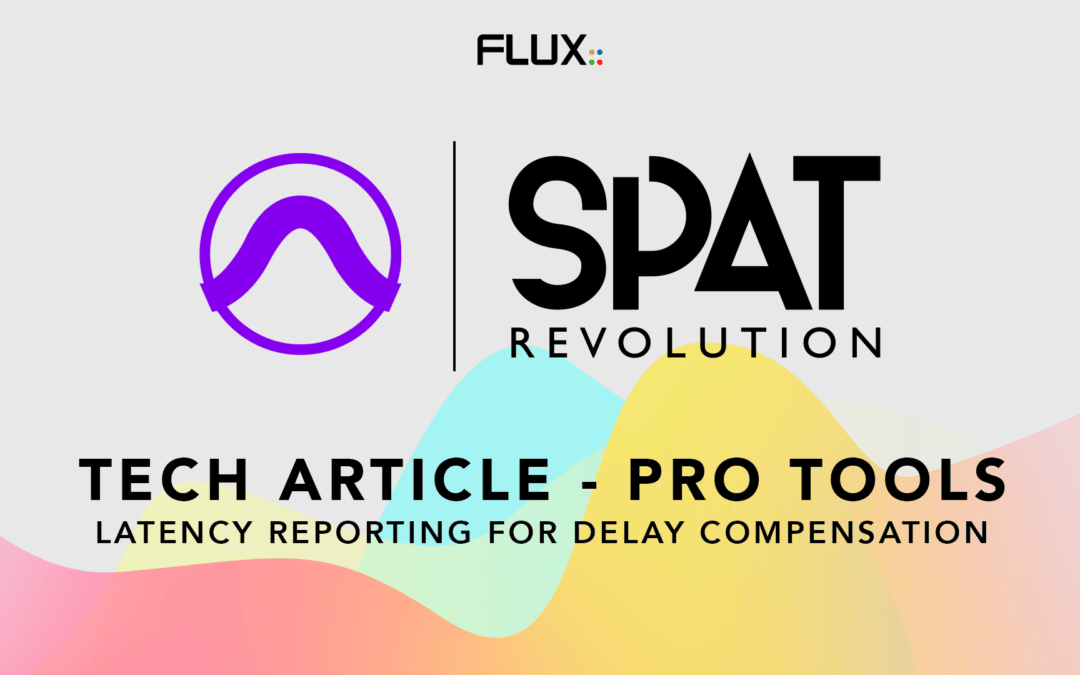 This follows a generic article on Delay and Compensation mechanism, As mentioned in different articles, when using audio devices to route to/from SPAT Revolution, Pro Tools is handling the needed delay compensation based on your routing / plugin usage. That being...
Features
Essential
Ultimate
Setup Wizard
Module configuration and manual setup management (Add, Remove and Duplicate)
Multi virtual room environments

Single Room

Efficiency zone and clamping
Acoustic Simulation / Reverberation
Channel-Based delivery

Up to 16 channel arrangements (including Dolby Atmos 7.1.4)

Up to 128 channel arrangements

Binaural delivery
Ambisonic (HOA) delivery

Up to 3rd order

Up to 7th order

Mid-Side M/S delivery
Ambisonic sources with trancoders

Unrestricted

Unrestricted

Binaural Monitoring

Multiple

Multiple

Near Field Binaural , Spherical Head Model, Snow Man Model binaural mode
HRTF Library

Complete HRTF Listen library

Complete HRTF Listen library

HRTF Import of SOFA files

Import and Export manager

OSC Integration
OSC Transformation presets
Custom OSC Transformation
RTTrPM Tracking intergration
Channel-based to Channel-based splitter aggregator
Binaural – Transaural – Binaural transcoding
Nebula Spatial Spectrogram
Terminal Commands

Terminal activity log only

Panning
Essential
Ultimate
XY/AB/StereoPan with 7 Stereo panning law options
XY/AB/StereoPan with 7 Stereo panning law options
VBP – Vector Based Panning
VBAP, VBIB, DualBand, HybridVBAP

VBAP, VBIB, DualBand, HybridVBAP

LBAP – Layer Based Amplitude Panning
DBAP – Distance Based Amplitude Panning
KNN – K Nearest Neighbour
AEP – Ambisonic Equivalent Panning
WFS – Wave Field Synthesis

With WFS option license

With WFS option license

Ambisonic / HOA
Essential
Ultimate
Ambisonic (HOA) delivery

Up to 3rd order

Up to 7th order

HOA Preset: AmbiX, B-Format, SPAT Room and Custom
N2D/N3D, SN2D/SN3D, FuMa, MAxN Normalization
ACN, FMH and SID Sorting
Projection, Regularized Pseudo-Inverse ,Energy preserving, AllRad, Improved AllRAD decoding methods
Basic, InPhase, MaxRe, BasicMaxRe, MaxReInPhase, InPhaseMaxRe type decoding type
UHJ Stream type support
Availability
Essential
Ultimate
SPAT Revolution stand-alone application for macOS and Windows
SPAT Send / Return / Room plugins available in AU / VST 2 / AAX Native
SPAT Send plugin available in AAX VENUE
Plugins compatibility, see plugin specifications:
https://www.flux.audio/plugin-specifications/
Software Licence Requirements
An iLok.com user account is required, the iLok USB Smart Key is supported but not required, and authorization can be made to hardware machines/workstations.
| | Essential | Ultimate |
| --- | --- | --- |
| Ilok account required | | |
| Machine authorization is supported | | |
| iLok USB Smart Key support (From 2nd gen) | | |
| iLok Cloud support | | |
| Simultaneous authorizations (2) | Single activation | |
| SPAT Essential license | | Included in SPAT Ultimate bundle |
| SPAT Ultimate license | | Included in SPAT Ultimate bundle |
| WFS Panning Add-on Option Support – Now on Essential too | | |
OS Compatibility
Essential
Ultimate
Windows 10 – 64 bits only
macOS – All versions from 10.15 including macOS Big Sur and Monterey compliant *
* See Hardware Recommendations and Requirements section for more information on compatibility.
Hardware Recommendations and Requirements
| | Essential | Ultimate |
| --- | --- | --- |
| Specifications Listed Below | | |

Single Computer (Creative Station with DAW and SPAT Revolution)
Single computer systems can provide an excellent option for portability but come with the importance of having a performing computer. As SPAT Revolution comes with a 3D graphic engine where audio objects are manipulated, GPU resources are required.

Recommended hardware:
Apple Silicon / ARM M1 *

Mac Studio M1Max / M1 Ultra off the shelf models
Mac Mini M1 Chip
MacBook Pro (13/14/16) M1 Chip

Apple Intel

MacPro
iMac Pro
MacBook Pro with PCIe bus graphic card
* SPAT Revolution is fully supported to Silicon / ARM Apple computers via the Rosetta binary translator.

Generic hardware specification:
Processing: Intel Core i9-9900K, i7-9700K or equivalent. Intel 8th generation or greater processor. (Minimum 6 cores – 8 preferred), 8 MB Cache.
System Memory: 16 minimum GB DDR4 (32 preferred when integrating with DAW and SPAT Revolution on the same machine with local audio path – LAP)
Chipset: High-quality / Professional mainboard such as Intel® Z370 Chipset
Graphic: GeForce GTX 1060 – 4GB GDDR5 Graphic Memory or greater (Graphic card fully supporting OpenGL 2.0 is required. USB displays are not supported)
Audio Interfaces:

Mac OS: Core Audio compatible interface or virtual sound card
Windows: ASIO compatible interface or virtual sound card.
Hardware for Live Productions (Dedicated SPAT Revolution Computer)
Recommended audio interfaces:

RME Digiface AVB or Dante, USB 3 Audio interface
RME Madi HDSPe, MADI FX or MADIface XT

Recommended hardware:


Apple Silicon / ARM M1

Mac Studio M1 Max (10-Core CPU, 24-Core GPU, 32 GB RAM)

Mac Studio M1 Ultra (20-Core CPU, 48-Core GPU, 64 GB RAM)

Apple Intel

MacPro, 3.5GHz 8‑core Intel Xeon W processor,

Radeon Pro W5500X, 32 GB RAM


Generic recommended hardware specification:

Intel® Xeon® W family W-2200 or W-3200 Series CPU (preferred), E-22xx, or equivalent. Higher core speed. Minimum 8 Cores, 12 MB Cache
Chipset: Professional workstation chipset C422, C621, or equivalent.
System Memory: 32 – 64 GB. A system with ECC support is preferred.
Graphic: Professional NVIDIA Quadro P4000 or equivalent – 8GB GDDR5 Graphic Memory (Graphic card with full support for OpenGL 2.0)
Network: Dual network interface (NIC) – Intel I210-T1 or equivalent
OS drive (Operating System): NVMe Internal SSD
Audio Projects Hard Drive: No specifics. For redundant systems, only certified RAID systems should be used.
OS: Mac OS High Sierra – Monterey. Windows Pro 10 64-bit. Real-Time optimized OS with minimum services.

Mac OS X – OpenGL 2.0 required – Mac Pro 1.1 & Mac Pro 2.1 are not supported.
Windows – If your computer has an ATi or NVidia graphics card, please assure the latest graphic drivers from the ATi or NVidia website are installed.
Certified configurations (SPAT Revolution v.22.02.50151 and above)
These configurations are tested and validated on a computer dedicated to SPAT Revolution. All other applications have been closed, and computer has been optimized as indicated below.
Computer optimization:
Disable Wi-Fi and Bluetooth if not absolutely required
Disable Airdrop
Disable Spotlight
Disable display sleep, disk spin-down, and system sleep
Disable screen saver
Disable Time Machine
Disable software update
Disable dashboard (Catalina and prior)
Disable photos processing and Cloud services
Log out of iCloud
Complete Certified Configurations
Processing
SPAT Revolution – stand-alone software
Essential
Ultimate
32/64-bits internal floating point processing.
Sampling rate up to 384 kHz, Block size buffer starting at 16 blocks (hardware dependant)
Unlimited number of Input and Output (Hardware and audio interface dependant).

32 audio input channels

SPAT Revolution – Send / Room / Return plugins
See Plugin Specifications Page.
Plugins Compatibility
Access to all specifications:
Spat Revolution
Stand alone Application
Send / Return / Room Plugins Compatiblity
Mac OS and Windows