Welcome to SPAT Revolution 22.09
SPAT Revolution 22.09 is a major update containing many new features and improvements, from workflow to user experience enhancement. This release also marks the introduction of the new Monthly Rent To Own program.

This new version is pumped for better performance with some multi-threading optimization and macOS: Core audio workgroup implementation, together with our unique FLUX:: Nebula being rewritten to be nicer, faster, and more efficient than ever.
Our Italian and Korean communities will be happy to see these two new translations in the software. 
The 22.09 update is the first paid upgrade since SPAT Revolution was released in 2017 and requires a new license. Users with a SPAT Revolution activation made from September 1st, 2021, which includes 1-year support and upgrades, will automatically receive the newly updated licenses in their iLok license manager. (iLok license update with surrender – More information on the surrender process can be found here.)

License owners that want to upgrade to 22.09 simply need to log in to their FLUX:: account to access their product upgrade offer in the FLUX:: online store. The upgrade is available for license owners within the realms of the FLUX:: EDU program, application can be done here.
New to the SPAT Revolution Essential edition
WFS Add-on license supported as a possible option to Essential
HRTF Management added (including option to import personalized HRTF profiles)
Improved session interchange with Ultimate
New flexible manual routing
Disable/Enable modules from session to work within Essential limitations
Free upgrade for all Essential perpetual license owners, and subscribers
New snapshot management page and features
Snapshot transport bar on main page
Snapshot update: relative and absolute propagation of object parameters
Snapshot relative recall option
Global / Individual recall time and options
Snapshot reordering / sequential and manual reindexing
Snapshot update history / restore points
NEW SUBSCRIPTION WITH RENT TO OWN OPTION
With the FLUX:: Immersive Rent To Own you get access to the SPAT Revolution spatialization mixing software at the same fixed price every month.
Rent To Own is a Monthly subscription plan without any commitment, and if you choose to continue your Rent To Own for a total of 24 paid months you will receive a perpetual license and own your software, forever, together with an associated support contract.
The Rent To Own SPAT Revolution program is available for both Essential and Ultimate versions, with the optional WFS add-on license.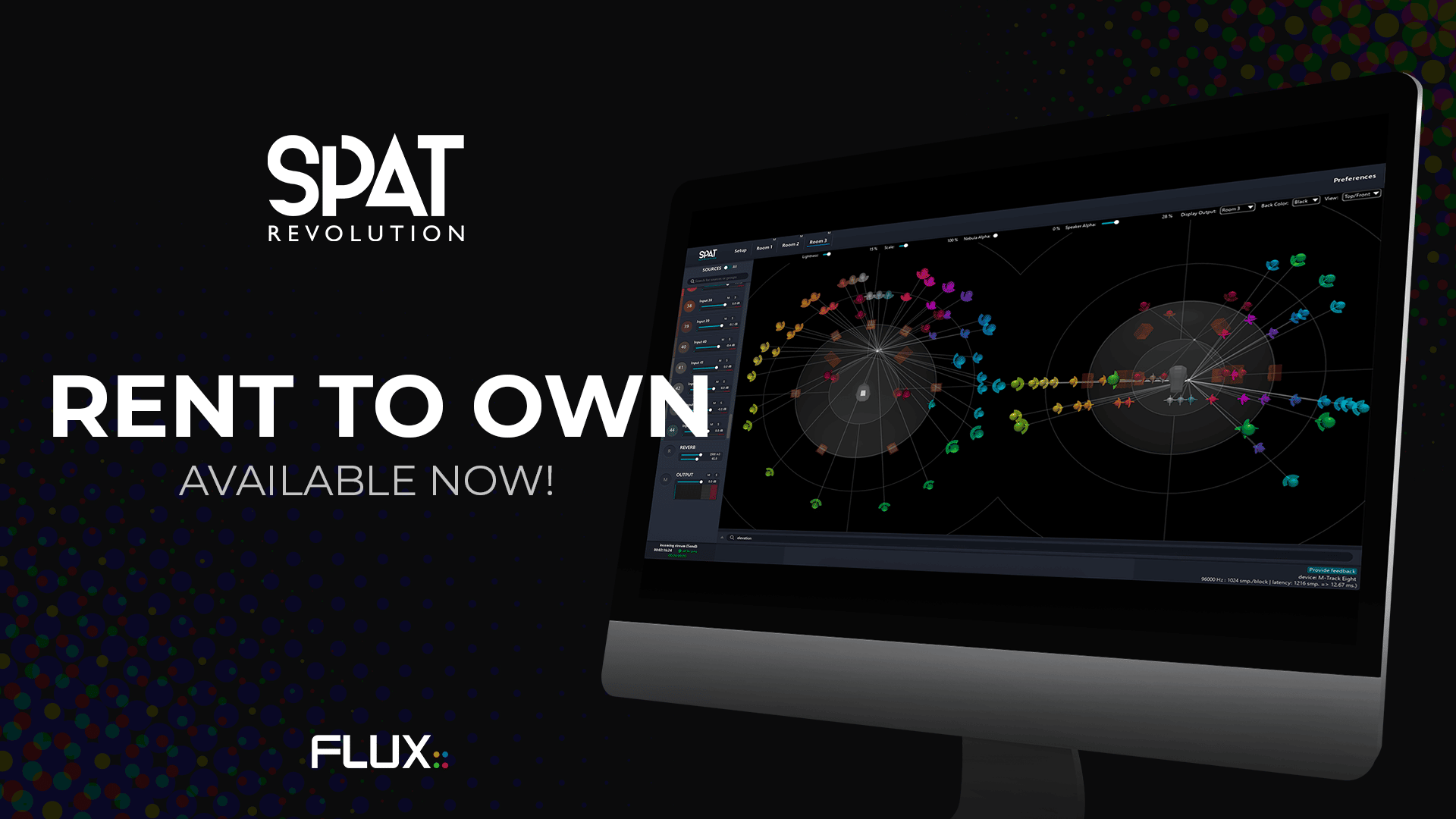 SPAT Revolution is empowering artists, sound-designers and sound-engineers virtually unlimited possibilities to design, create and mix an outstanding real-time immersive experience.
Our beloved user guide has been updated with the new information regarding the 22.09 release, and covers all the additional features and other improvements..