Steely Dan Tribute in 22.2 from Radio France with Spat Revolution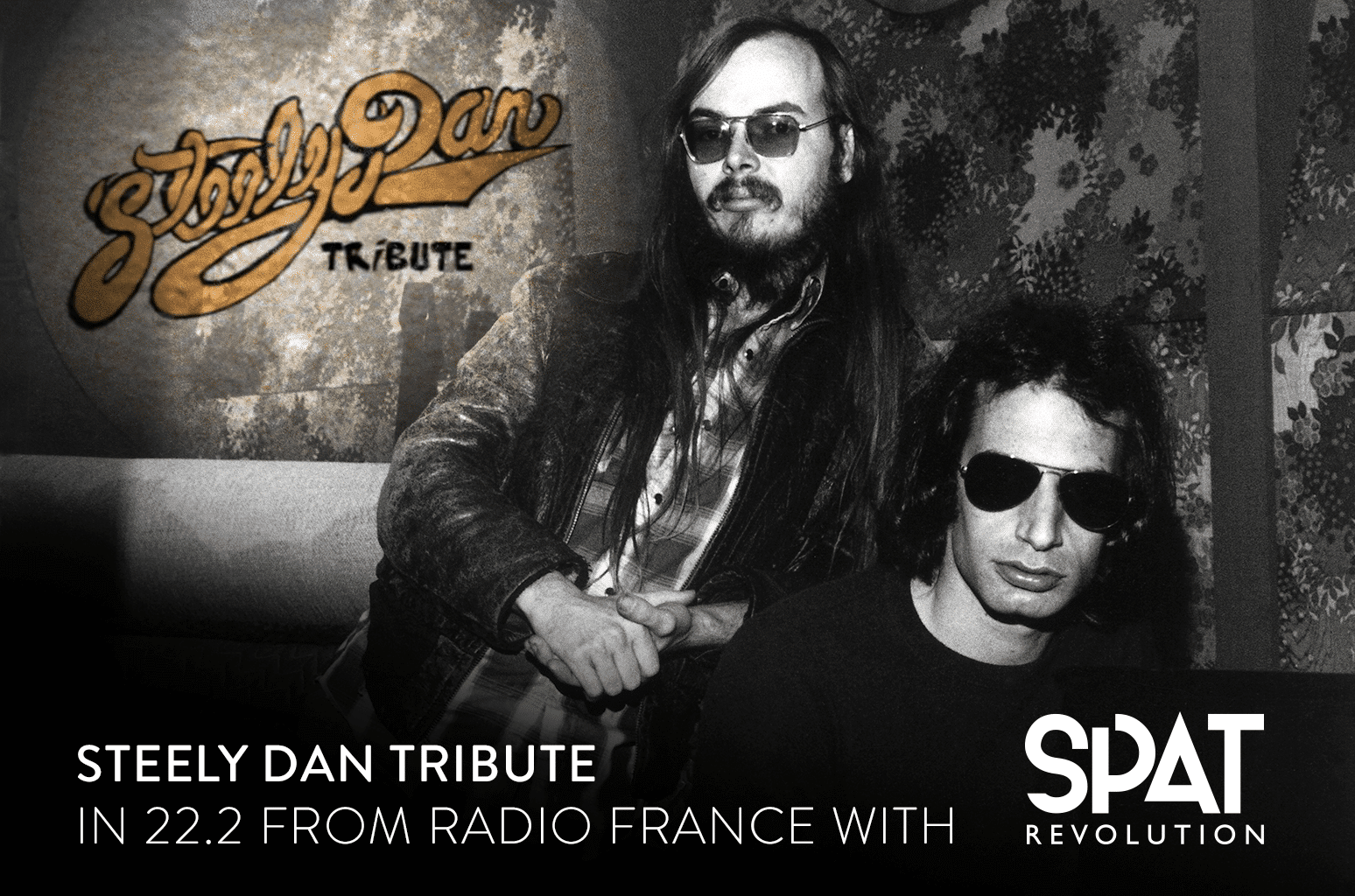 In the early 1970's, Donald Fagen and Walter Becker created the band Steely Dan in California, USA. Seven years later, in 1977 they released the legendary album Aja, with up about 40 musicians participating including guests like Wayne Shorter, a masterpiece with an outstanding sound quality today still used as benchmark for audiophiles. Last year, 40 years after Aja, Walter Becker died, and on the initiative of the French guitarist and teacher Jean-Michel Kajdan, a Steely Dan Tribute group was formed consisting of students from the current jazz and improvised music classes from the Paris CRR Conservatory and the PSPBB school of Music, Theatre and Dans in Paris.
The Steely Dan Tribute group with 16 musicians were finally performing pieces from Aja and other albums in a live concert in December 16, 2017 in Studio 105 at Radio France, honoring the sophistication of the legendary work of Becker and Fagen.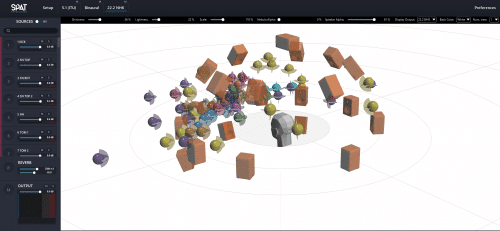 The concert was recorded and originally mixed in stereo for the radio, and based on the recording Pascal Besnard and Hervé Déjardin, both sound engineers at Radio France, has created a 3D-audio mix of five tracks from the concert using the SPAT Revolution.
Listen in Binaural with Headphones
The mixing technique used in SPAT Revolution is based on the concept that each sound element is an object that can be located in a three-dimensional space, and where each object is associated with a range of different parameters; position, displacement, reverberation and many more, providing the possibility to create different independent mixes based on the same set of objects. This means that the mix can be mixed on a full 22.2 system, and at the same time be rendered in 5.1, stereo, or any other format, without having to perform any specific explicit mixing for the different output formats. In addition, the binaural rendering technology from IRCAM used in the SPAT Revolution is based on the latest and most prominent research within its field, and offers a very convincing immersion in a pair of standard stereo headphones.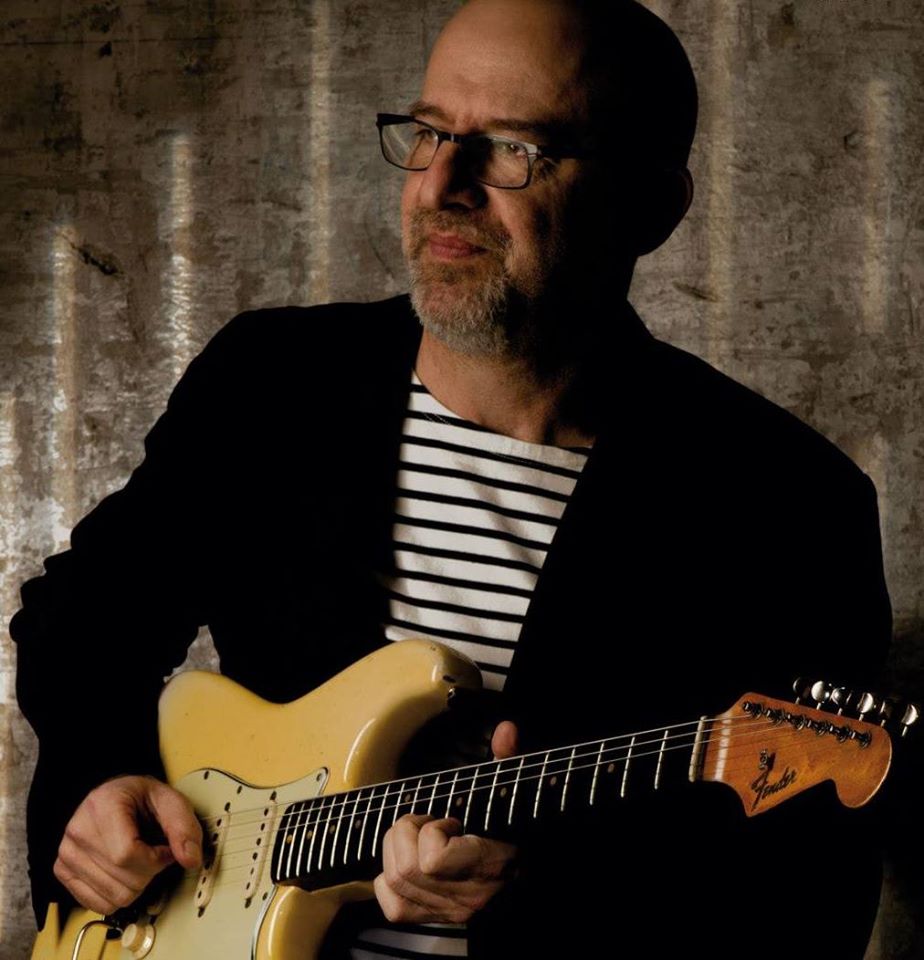 It started with Pascal Besnard suggesting to Jean-Michel Kajdan to do a 3D-audio mix of the Steely Dan Tribute concert, as the two of them had already worked together on a 3D-audio project in 2015 when Pascal made a binaural mix of one of Jean-Michel's pieces. This time the idea was to take things a little bit further and create a 22.2 version of five of the tracks from the concert.
First of all, the multitrack recording was meticulously cleaned up from all crosstalk with good help of Hervé Déjardin, who is specialized in the field of object mixing and experienced with the 22.2 format. Pascal tells us: " Having no experience in this kind of mixing but the knowledge how to operate a workstation in general, I worked with Hervé as a rally co-driver, giving instructions to him who then controlled the software (SPAT Revolution and Steinberg Nuendo). In a way it was very similar to the role of an MMO (Musician Metteur en Onde – The artistic directors of the concerts at Radio France). "

For this mix Pascal did something quite unusual compared to his long experience of multichannel mixing: "In my 5.1 or 8.0 multichannel mixes I always used to split up the sources in the space as much as possible, to not end up reproducing a realistic concert image. The interest for me was to take advantage of the 360​​° sound field offered by these formats, even for jazz or rock. Now having access to the 22.2 format allowed me to reconsider my approach and I tried, for the first time, to use the format and the precision it provides, to try to reproduce a frontal image of the orchestra, as if we were in the place of a spectator ideally placed during the concert. To make the mix even more realistic I used the atmosphere of the room as a reference. It's never done usually, we normally always use the drums as a reference for this kind of music. Here I wanted to give it a natural impression and make the orchestra breath. In addition, I chose to adopt a rather American mixing technique for the instruments, starting with the voice and then build up the rest of the mix."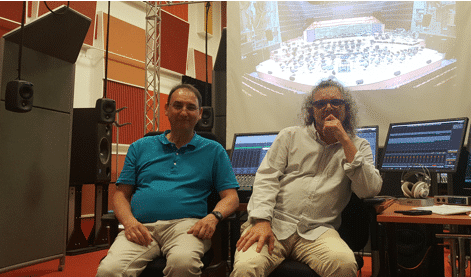 Pascal Besnard (left) and Hervé Déjardin (right) in the studio 112
The 22.2 format and Binaural rendering
As the name suggests, the 22.2 format requires 24 speakers, which maybe isn't suitable for the general public, Pascal explains: "I didn't choose 22.2 expecting people to go get this kind of setup in their homes, it just turned out to be the best because of the binaural rendering, creating the most accurate representation that I know of. The fact that you can mix in 3D on three levels of loudspeakers give things an astounding subtlety, impossible to obtain in standard 2D formats. The binaural rendering engine in SPAT Revolution allowed us to provide this quality to anyone with a pair of standard headphones, which is why it became a great solution. In addition, this format allowed me to create a realistic and detailed mix without any obvious demonstrative effect. In the end, even though it may not be obvious, it adds a great value to the experience when listening to the concert like this. Finally, the other advantage of 22.2 is that it adapts very well to 2D formats in mixdown, and in 8.0 or 5.1 everything works and sounds really good with no need to create a new explicit mix for each format. Those who are equipped with a multichannel surround home cinema will be able to enjoy a really convincing experience and truly perceive the subtleties of this work. "