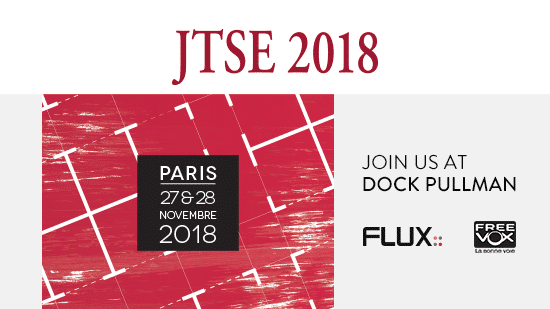 On November 27th and 28th, together with Flux:: French partner Freevox, the Flux:: Spat Revolution team makes a stop in Paris for a series of presentations.
We welcome you all to join us and participate in our presentations of the Spat Revolution Immersive Audio Engine. Daily presentations on the 27th and 28th at 11.00 and 15.00.
More information and registration found here (in french)
Furthermore, in collaboration with SAE Paris, AES France and Merging Technologies, Flux:: is participating and presenting in a discussion about the latest audio tools and workflows for live shows – Audio for live shows : November 27th at 19.00.
Audio for live shows – New needs, new tools, new applications
The live show is constantly evolving with new challenges for the stage setup, made possible by the contribution of sound engineers and new technology.
Program
19.00 – Opening
19:30 – Presentation of Ovation and the workflow of theme parks, by Maurice Engler – Merging Technologies
20:15 – Presentation of Spat Revolution in live event environments, content creation and its usage in large scale live productions, by Hugo Larin – Flux:: Audio
21.00 – Ending
 More details found here (in french)
Audio for live shows – Registration
https://colloque-audio-spectacle-vivant.eventbrite.co.uk/
The 2018 edition of JTSE will be held at Pharmacy Porte de la Chapelle, Paris (Subway "Porte de la Chapelle"), with over 140 national and international exhibitor companies from the main areas of stage technologies presenting their unique know-how, within; machinery, lighting, sound, stagecraft, rigging, fabrics, seating, accessories, safety gear and training.
JTSE 2018 – Registration
http://www.jtse.fr/en/demande-badge/
http://www.jtse.fr/en/