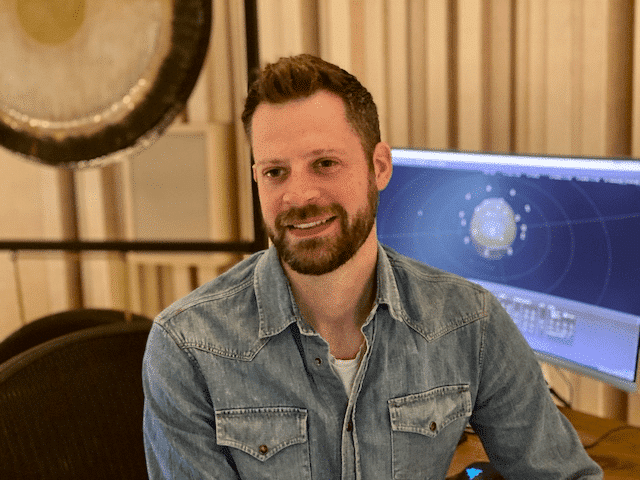 Hudson Valley, NY – April 2020…
When British playwright William Congreve first coined the phrase, "music has charms to soothe the savage beast," he likely had no idea of the depth of that observation. The therapeutic properties of music have been proven to exceed even our wildest expectations, and have long been a focus of the medical, neuroscience, and wellness communities.
For multi-instrumentalist Josh Peck, the power of music as a healing force is something he has quite literally immersed himself into. From his home base at the Sound Dojo, a 20.2 channel  immersive retreat he designed and built in New York's Hudson Valley, the classically trained composer and sound designer merges immersive soundscapes and the healing arts, utilizing FLUX Immersive's SPAT Revolution software to create a wide range of exhibits and experiential events.
Peck credits his background in music production and composition with putting him on his current path. "I came up as a typical studio rat, working as an assistant engineer at Unique Recording in New York," he recounts. "That led to a job at the Lodge Studios. I ended up on the production side, as a composer, but I think along the journey I lost some of the passion for why I got into music in the first place. A lot of major label projects are creativity by committee, and you lose some of the essence of the magic."
It was during the same period that Peck began to become involved in mindfulness and the wellness community. Incorporating his love of music and audio was a natural fit. "I had begun exploring spatial audio, and the possibilities really excited me. It led me to begin exploring sound not from a music or performance perspective, but more as a sonic landscape. Sound is an essential component in the self-exploration experience. The immersive element, done right, adds a whole new dimension to it."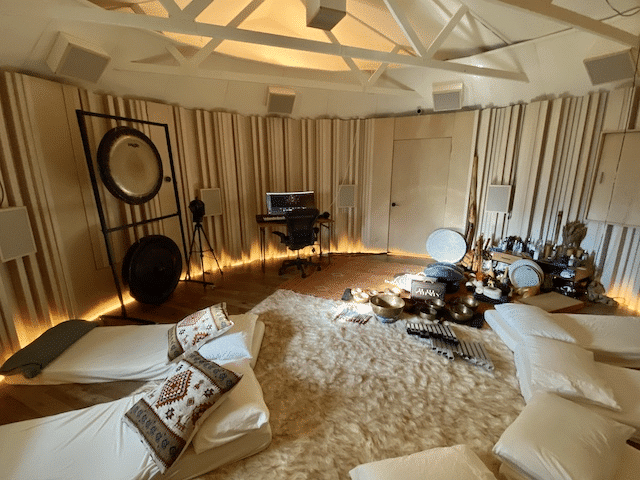 While he's been involved for several years in creating content for numerous festivals, events, and museum exhibitions, it was his growing fascination with immersive audio that led to the creation of the Dojo, a 22-channel ambisonic space that also serves as Peck's recording and composition studio and sound lab. "It's a beautiful space that was built without a real business plan," he concedes. "I mainly just knew if I wanted to get into spatial sound, I needed an instrument – which is this room – to even begin to understand its potential."
Audio in the space comes from an iMac Pro, running through RME MADIface I/O units into a 20.2 system using Focal Solo6 Be powered monitors. "It's a 21-foot diameter circular space, with all the speakers hidden in the walls, so it's all part of the acoustics of the room," he explains. "We've got eight speakers in the walls, eight more in what I'm calling an oculus, overhead, and four more in the middle. The walls are all designed with dif-sorbers – diffusion and absorption – like a typical bass trap you'd find in the back of a mix room, but on every wall. It's all wood, so there's still a lot of vividness and natural ambience to it. You can really play with blankets and rugs on the floors and walls to play with reflections."
Once the space became a reality, it opened the door to myriad other possibilities. The Dojo has become a nexus for the wellness community, with private and public events held year round. "We can hold eight to ten people in the space," Peck reports. "It's a great space to explore sound and space as a vehicle for change and a tool for exploring different states of consciousness, but we're able to do so from a real scientific background, where the spatial component provides a larger canvas for not just expressing, but experiencing dimensionality."
The sonic landscapes Peck creates incorporate both synthesis and natural sounds, including Himalayan singing bowls and other ancient instruments. "We're using both ancient and new technology to create a rich tapestry of frequencies and overtones and harmonics that invite judicious listening and active participation on so many different levels."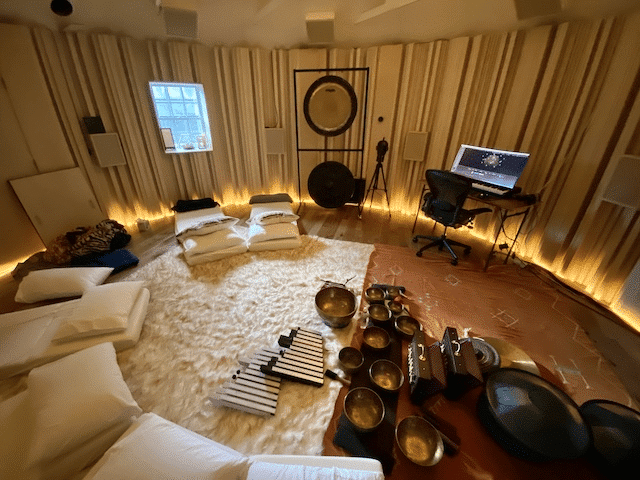 All the immersive content is designed using SPAT "I've been working with SPAT since it came out. The intuitive nature of the program itself – the thoughtfulness, the workflow – they're so far ahead of anyone else. I've experimented with a number of immersive platforms, but what FLUX is doing is a whole other level of realism and professionalism."
Peck continues to create sonic content for other events and exhibition spaces as well, and SPAT is a critical tool in that process too. "One area where SPAT really shines is the ease with which I can convert content from my space to other site-specific builds. I can create 3D virtual spaces and encode and decode them easily. I've easily moved from binaural to a 16-channel, 700-person immersive ocean dive meditation event under the great whale exhibit at the Museum of Natural History, without having to do a whole lot of reprogramming. What was really wonderful was that I could go home, work on a room's design, and then easily decode it for the space. Of course, you always have to work in the space to fine tune it, but SPAT enabled me to do a lot of the design work in advance."
For Peck, the immersive environment is more than merely an art form – it's a life-changing endeavor. "I've learned so much about the psychoacoustics of immersive audio. The impact of different frequencies and overtones on the human psyche is just the beginning. The ability to locate those sounds dramatically intensifies the experience of how we relate to the emotions behind the sounds. With a bit of 'pre-flight' guidance on the art of deep listening, it can become a tremendously empowering vehicle for people."
The response within the mindfulness community has been overwhelmingly positive, Peck reports. "These are fascinating times. People are discovering sound as an important vehicle to experience a therapeutic space. There's a real hunger for it. We've been working with other facilities who are looking to build therapeutic spaces too, and I always recommend SPAT to people getting into immersive sound design."
Indeed, Peck asserts, FLUX is the ideal partner for exploring this new and largely unchartered territory. "There are very few people doing immersive right now, and even fewer doing it well. Some companies get lost in the technology. FLUX seems to have really nailed the balance between tech and creative. With SPAT, FLUX is building software that is not just cool for creating artistic effects – they are building something that really empowers the wellness space/community. They are my go-to platform for this kind of work."
Sound Dojo loudspeaker and Multi-Channel Systems Design by Terence Caulkins from Arup.