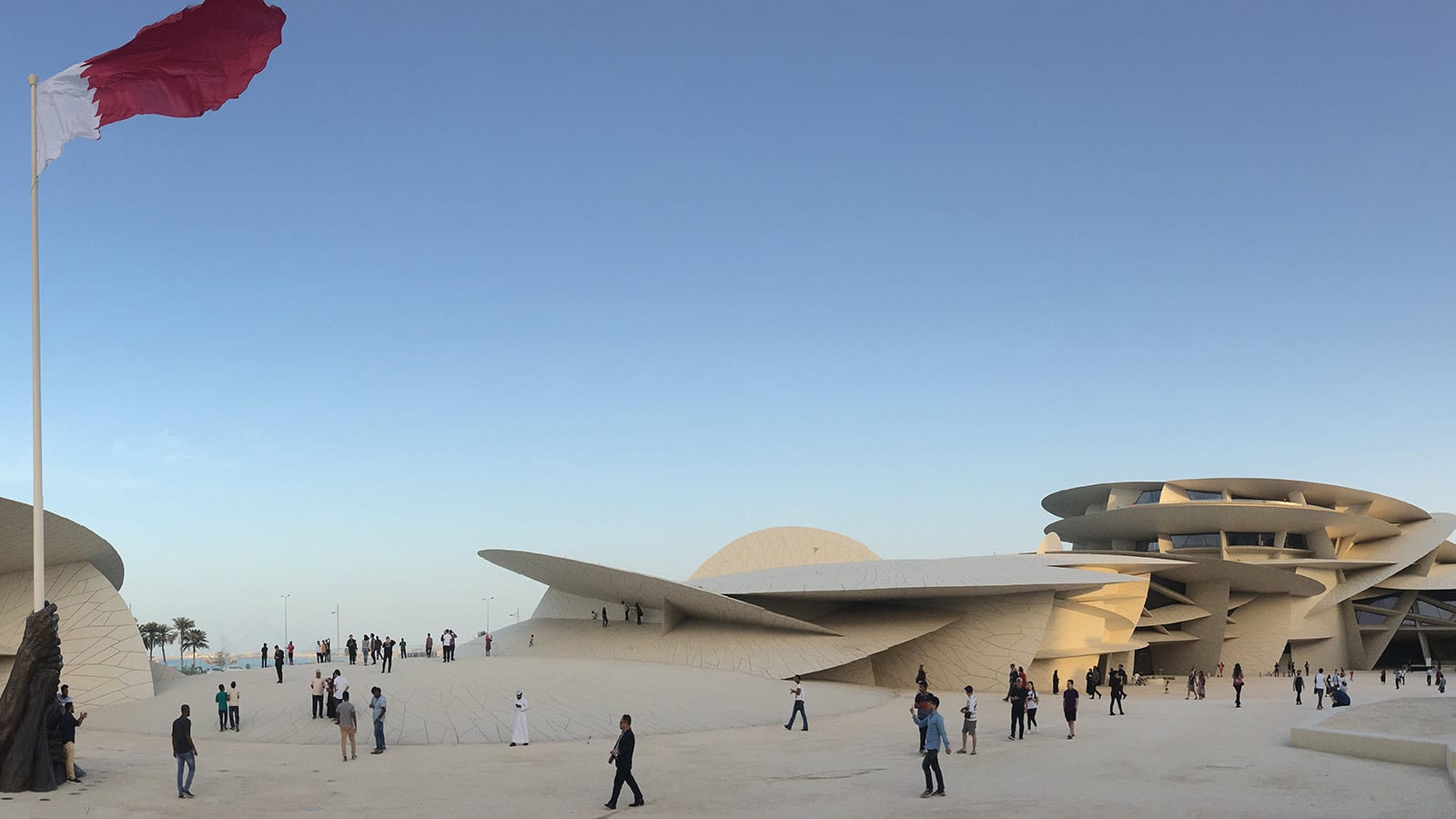 Doha, Qatar – October 2020
Even in a skyline as futuristic as Qatar's, the new National Museum of Qatar stands out as visually stunning. Designed by renowned architect Jean Nouvel, the museum's modernistic exterior, adorned with 539 massive disks that lend it an almost other-worldly character, is home to more than 86,000 square feet of state-of-the-art exhibit space, with multiple interconnected galleries offering towering walls of video and immersive, multi-dimensional audio created using Flux::Immersive's Spat Revolution.
The museum's groundbreaking immersive audio design was created by Basel, Switzerland-based Idee und Klang, a pioneering multimedia agency acclaimed for their unique approach for integrating sound scenography with immersive audio design. The company has been working in immersive audio for more than 15 years, and as company founder Ramon De Marco explains, the Qatar project was unique on many levels.
"The museum itself is a very large and unusual space, with each of the galleries having its own architectural and acoustical character," he offers.
"Each gallery has its own theme, with different video presentations and of course, different audio accompanying that, each one created by different composers and sound designers."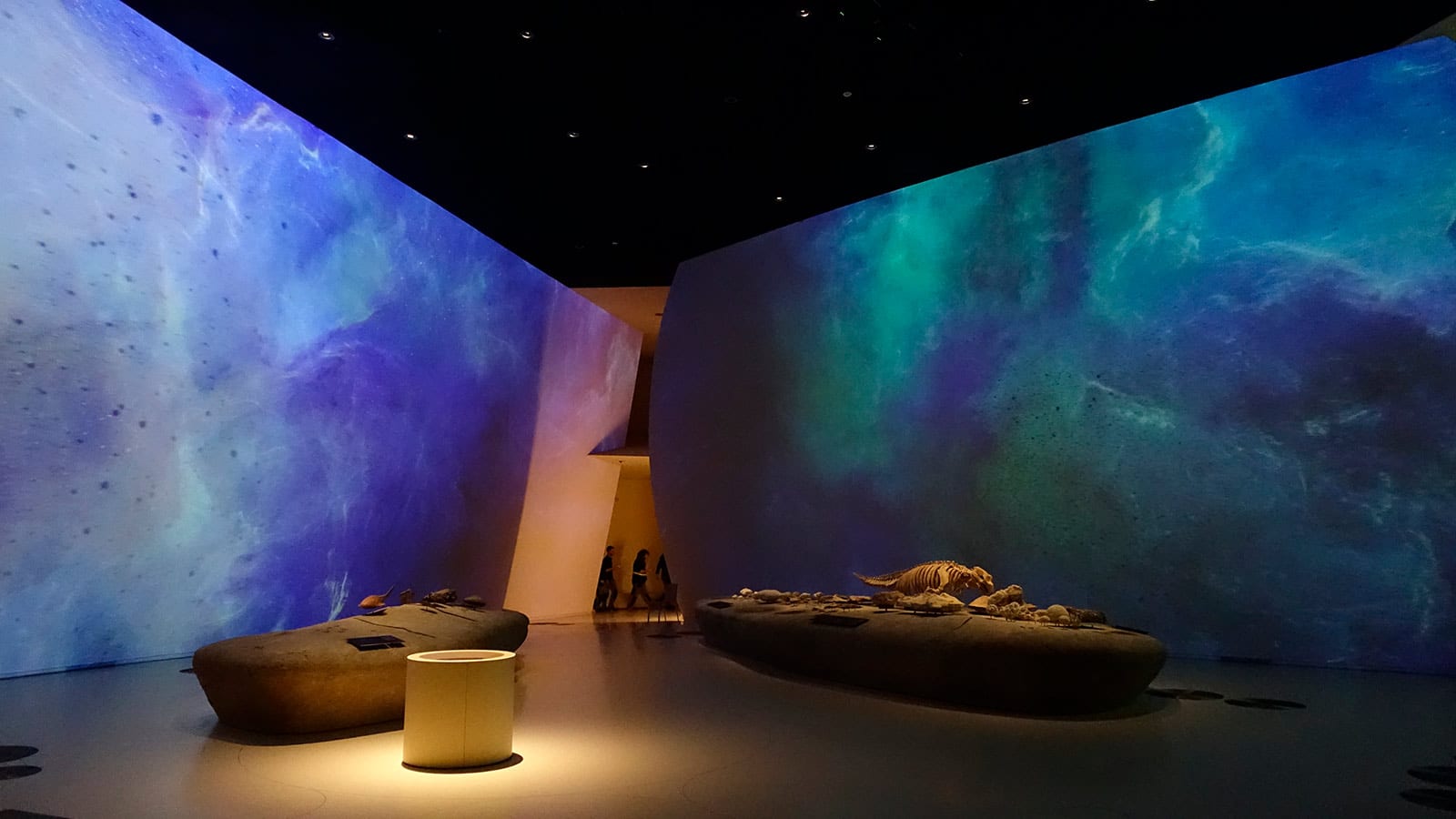 With multi-channel sound and essential aspect of each gallery's presentation, the complexities of producing and mixing multiple channels of audio for each space was just the beginning.
"We specified 64 channels for each gallery – almost 700 speakers in all," reports audio scenographer and designer Daniel Teige. Meyer Sound provided the loudspeakers for the project, which was mixed using Spat Revolution.
Placement of the loudspeakers was also an issue, adds De Marco.
"The architects were adamant that they did not want to see any speakers. They originally wanted speakers only on the ceiling, which was about 20 meters high. Achieving any kind of directionality would have been pretty much impossible, and eventually we were able to lobby for locating some speakers at the bottom of the walls, where we had about eight centimeters of clearance. Meyer Sound had a compact speaker, the UP4slim, that we were able to implement in that limited space."
Creating an immersive audio experience for even a single space can be a challenge, but creating multiple environments for adjoining spaces is an order of magnitude more complex.
"A lot of sound scenography is about understanding spaces, and how sound behaves in a space," Teige observes.
"Using Spat, we were able to create a concept of how to deal with the sound, and adapt it to the theme of each gallery."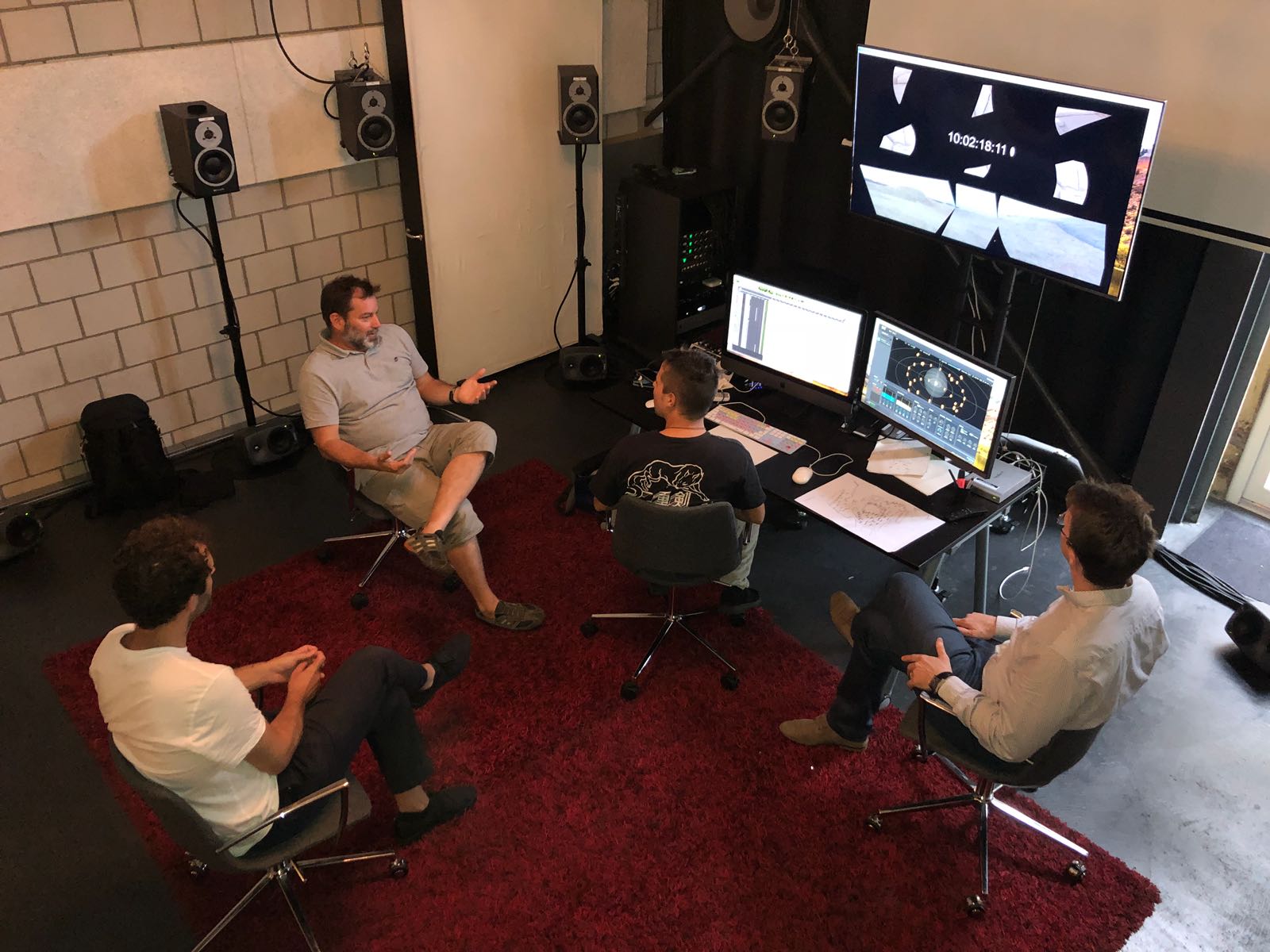 " We compared several different immersive software programs, and Spat was really the most intuitive, as well as the best sonic quality. It's far more than just a surround panner – it's a room simulation tool that offers many opportunities to choose different algorithms "
In addition to the sonic issues of overlap from adjacent galleries, De Marco points to the project's sheer diversity as another challenge.
"We worked with each of the composers to create style guides, determine what sounds they would use, and how it would all be configured," he observes.
"Most of the composers were more experienced in composing for TV documentaries, and not necessarily accustomed to creating for multichannel immersive environments. We worked with them not only in terms of what kind of sounds they would use, but also the material they would deliver, so we were able to adapt it to 50 or 60 channel mixes. Instead of receiving one or two WAV files, we were getting 50 or 60 files to orchestrate into a space."
Consistency was also a factor, he adds. "We received everything from perfectly assembled multichannel sessions to some rather challenging ones. In some cases, we did a big part of the sound design ourselves, because the material we received was simply not enough."
Composer Stratis Skandalakis has a long history of creating immersive compositions for exhibitions, including travelling globally to gather field recordings for his work. Skandalakis worked with a wide array of composers and circumstances, mixing each of the projects using Spat Revolution.
"It was pretty challenging at times," he reports.
"Some of the composers had no previous experience with multichannel mixing, and were not accustomed to having a conversation about for example, where to place a sound in a 360-degree space. Often I would be working with a director on my left, and a sound designer on my right, and dealing with a very complex mix with maybe 50 channels, explaining why it takes time for the additional sound design."
Skandalakis points to working with Spat as key to addressing the widely diverse range of material the team had to work with.
"It was a first for me to work with multiple formats at the same time," he observes.
"With Spat we were able to take stereo, mono, ambisonic, 5.1, and throw them all together. It was a great tool for sound design and for special effects as well. You can make very fast movements, really play with the object based mixing."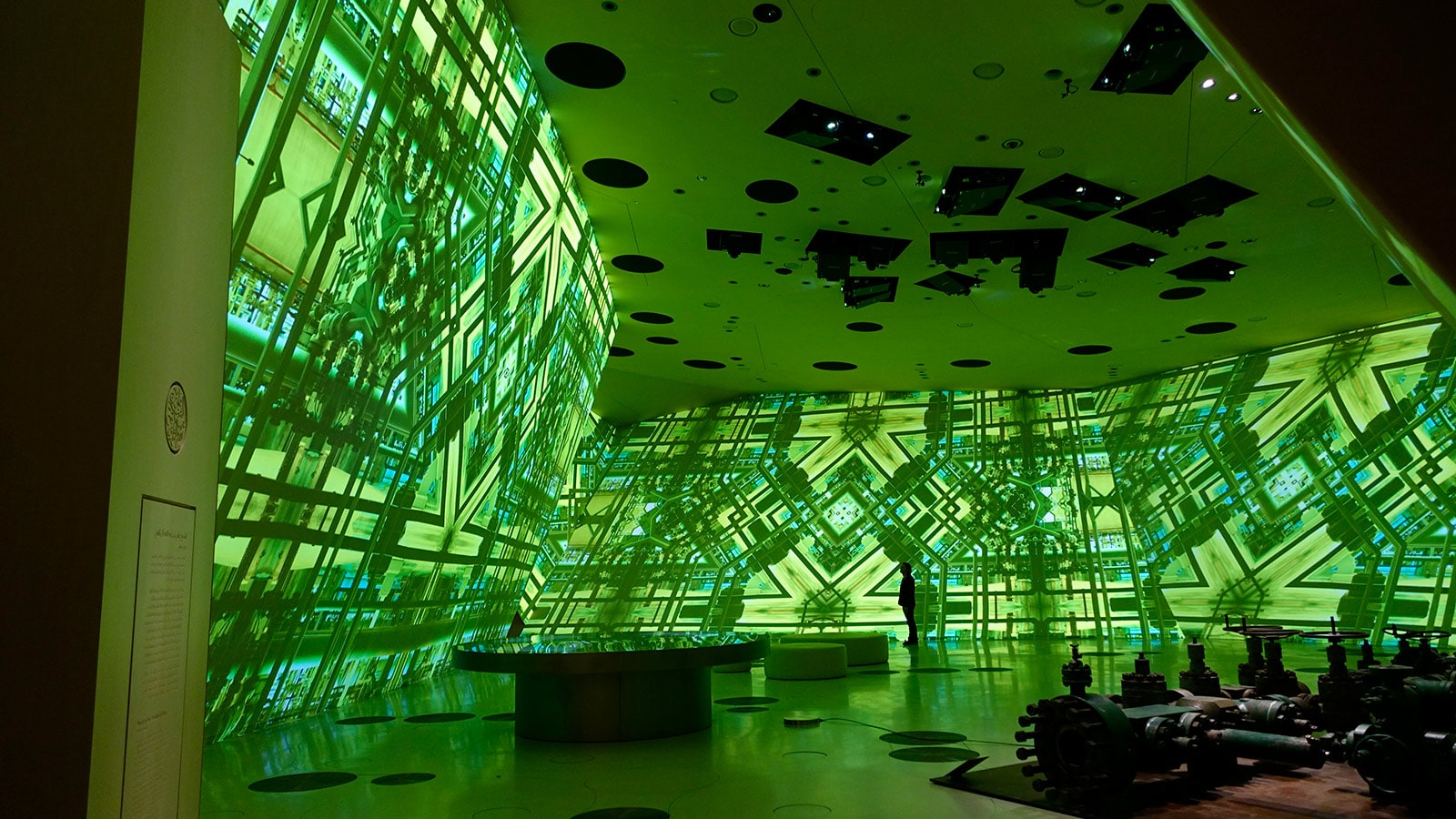 Particularly with the compressed timeframe, there was not a lot of opportunity for long involved mixing sessions. Staging and designing the systems in advance was key to making it work, and much of the planning and acoustic modeling was begun at the Idee und Klang studios in Basel.
Working with Spat Revolution was a tremendous time-saver, says Teige, enabling the team to create the initial sound design quickly and efficiently before taking it to the actual galleries for fine tuning.
"You have an idea and you want to implement it quickly," says Teige.
"Spat's object based mixing is really intuitive to work with, and that enabled us to stay in the creative space and work fast and efficiently."
For De Marco and the Idee und Klang team, this was their first experience working with Spat Revolution.
"We compared several different immersive software programs, and Spat was really the most intuitive, as well as the best sonic quality," he observes.
"It's far more than just a surround panner – it's a room simulation tool that offers many opportunities to choose different algorithms. And the people at Flux were great to work with. Gaël and the others were really supportive. Any time we ran into an issue, we would call and right away, we would have a new update. Spat is really the only software I would choose for a project like this one."