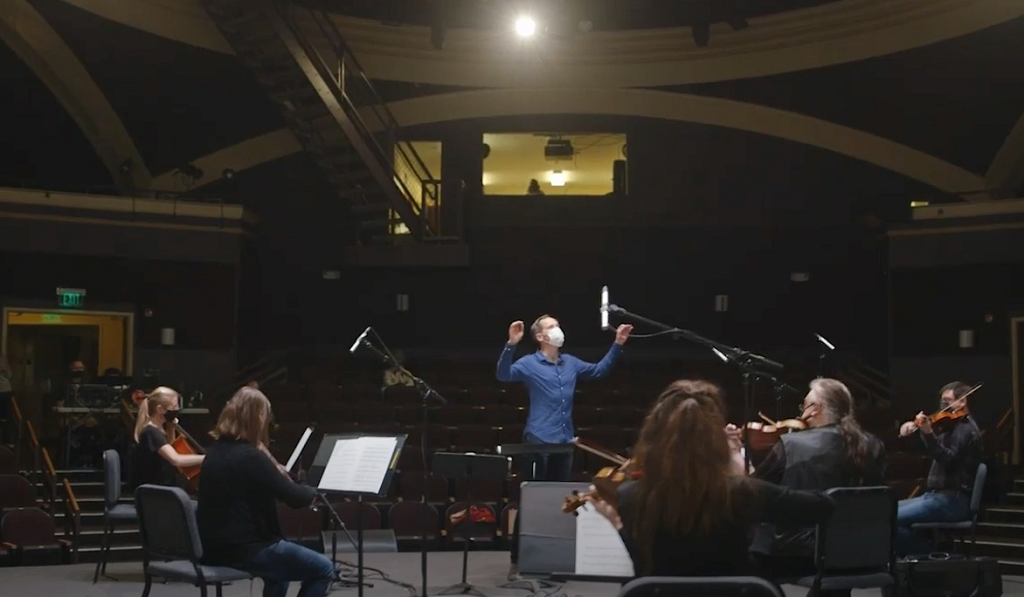 South Bend, IN – February 2021
In the city of South Bend, one production company has found a unique solution to get artists and crew back to work, and bring music and shows to audiences hungry for arts and culture, creating an immersive environment using SPAT Revolution from FLUX:: Immersive.
Employing an innovative 8-channel setup and a lot of creative imagination, the South Bend Symphony Orchestra has created an immersive performance experience that not only brings the listener into the symphony hall, but right up onstage with the orchestra.
The project began life as an inquiry from Halle McGuire with the South Bend Symphony. The Symphony wanted to know if it would be possible to create an installed sound system that could accurately reproduce the experience of listening to an orchestra, but could be set up in a space where people could walk through and maintain social distancing.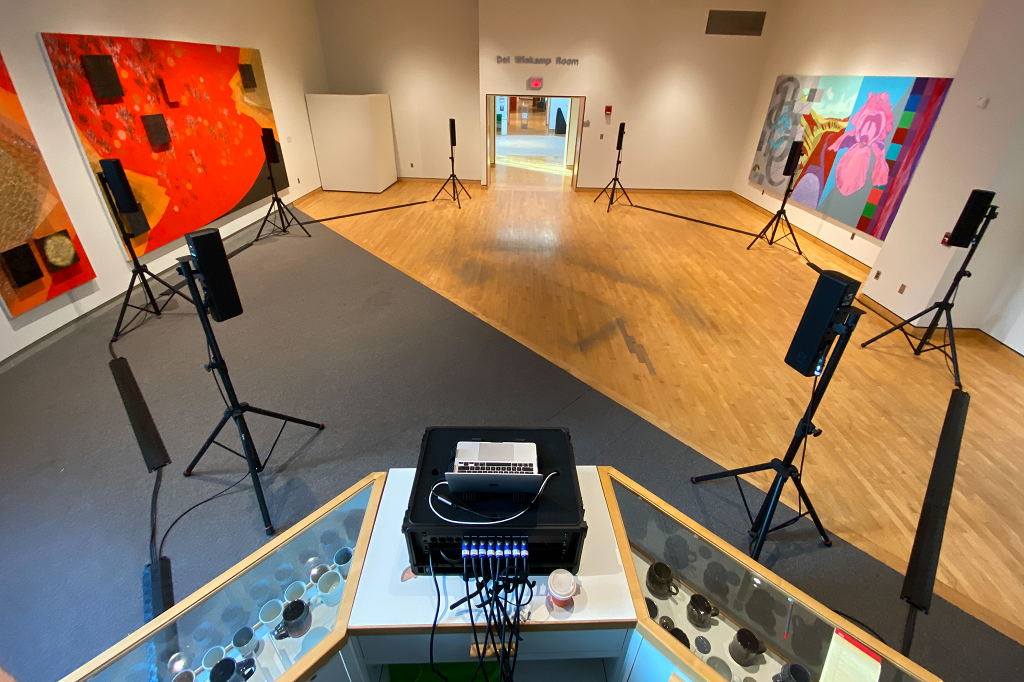 "For us, the challenge was to think outside the box and find a way to make music and employ musicians safely, and bring music to an arts-deprived audience,"
explains Eric Friedlander, Sound Designer for the Octet and Production Manager for the Festival.
"We had some discussions about potential concepts, and after identifying the boundaries of the project – prospective spaces, sizes of ensembles we could safely record, etc. – I suggested a semi-portable circular sound system where each recorded instrument would be assigned to a loudspeaker. I had already seen a demo of SPAT at an Infocomm show, and I kind of had the idea in my back pocket of creating this 3D experience using SPAT. This seemed like the perfect opportunity."
After presenting proof of concept and getting signoff from the Symphony, the next step was building a semi-portable system, comprising eight JBL CBT50 speakers on tripods. Friedlander utilized the WAVES LV1 platform to record the octet, enabling him to easily import and export to and from Pro Tools using Soundgrid and run SPAT as inserts.
"It gave me a ton of flexibility. We routed each instrument through its own output and the result is a small scale immersive experience that will allow you to hear eight musicians playing in an octet in a way that no one has really been able to experience before."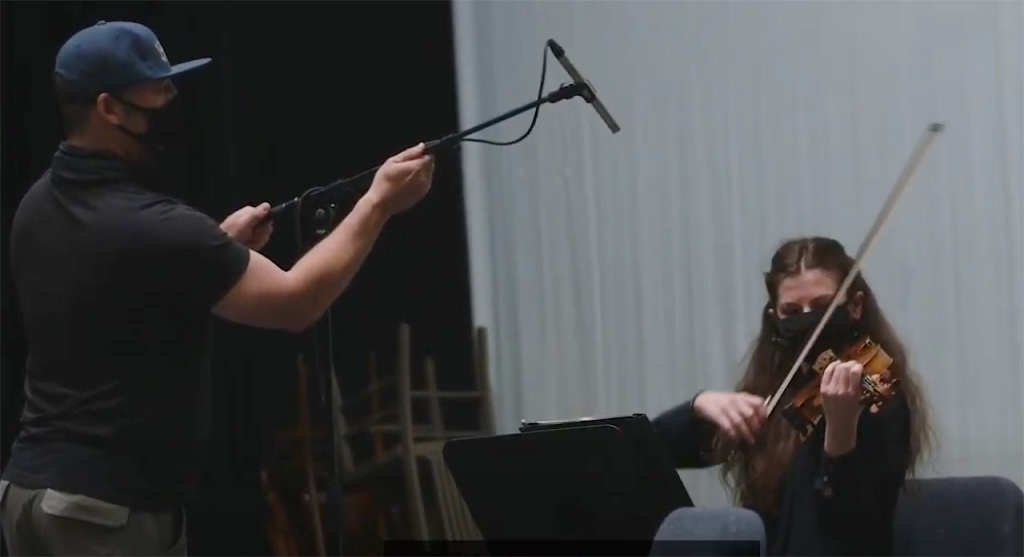 "When you're in the audience, you're separated by the stage, and the musicians are all on stage," McGuire observes.
"You get the whole sound coming at you but you never get to feel like you're onstage."
Friedlander agrees. "People will be able to walk around and they'll kind of be able to mix it themselves. They can walk around and hear the interplay between various instruments, stand in the center, and essentially create their own experience."
"Mixing to SPAT was a blast," Friedlander enthuses.
"It was so exciting to be able to take my flat mix, tuned the way we wanted it, and just expand that out into an immersive and engaging 3D space. I made good use of the timbre controls in SPAT, as it was a really neat way to fine tune the sound of the instrument in the immersive space, without necessarily changing EQ and the overall sound that we'd achieved pre-immersive mix. It just was a great way to really polish the mix we had and better fit it into the space to get the realism we wanted."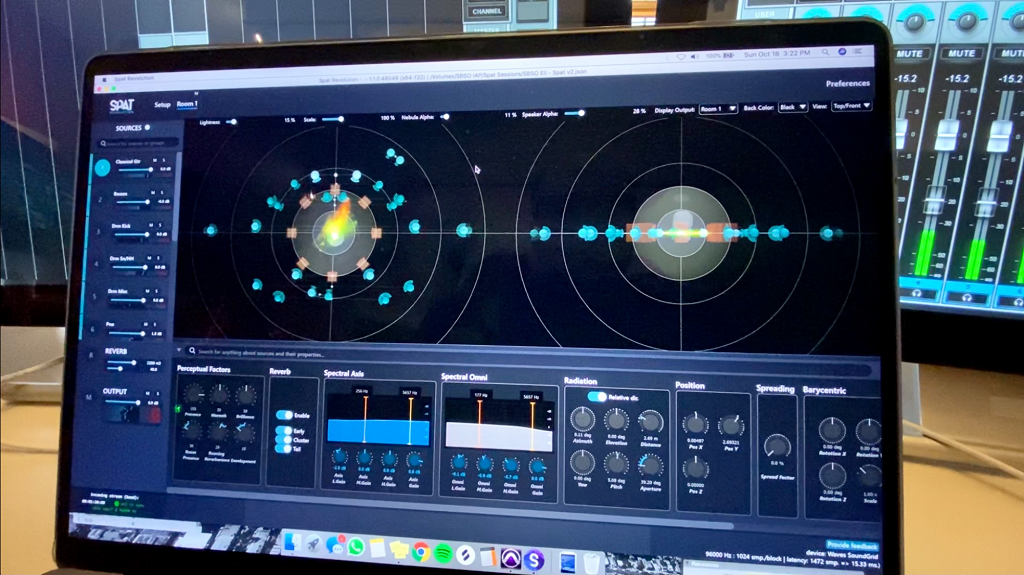 " Using SPAT and other mobile tools to build an immersive, object-based mix enabled us to do things that wouldn't have been possible in a traditional mix environment, and give the symphony and the arts community something they can use to provide a new and totally different experience in the future. "
Friedlander also gave high marks to the reverb engine in SPAT.
"It was a total gamechanger. Having the very clear, very direct sound of each instrument, it gave us a lot of leeway to decide how to best apply the reverb engine and think about what space we wanted to put people in as they were listening. It also really glued the mix together to put everything in the same 'space'." 
For the Symphony, the promise of this immersive experience goes well beyond merely a temporary solution for coping with the shutdown. As McGuire explains,
"This is something really special that we can give to our community in a time when we can't give them a traditional live performance, but it's not only relevant during the pandemic; it's something we can continue to use. It's completely portable, so we can take it into a school, to a library, we can set it up in a hospital. We can make live symphonic music available to everyone."
"I'm really pleased not just with the experience we were able to create, but the fact that we were able to create it at all," Friedlander concludes.
"Using SPAT and other mobile tools to build an immersive, object-based mix enabled us to do things that wouldn't have been possible in a traditional mix environment, and give the symphony and the arts community something they can use to provide a new and totally different experience in the future."