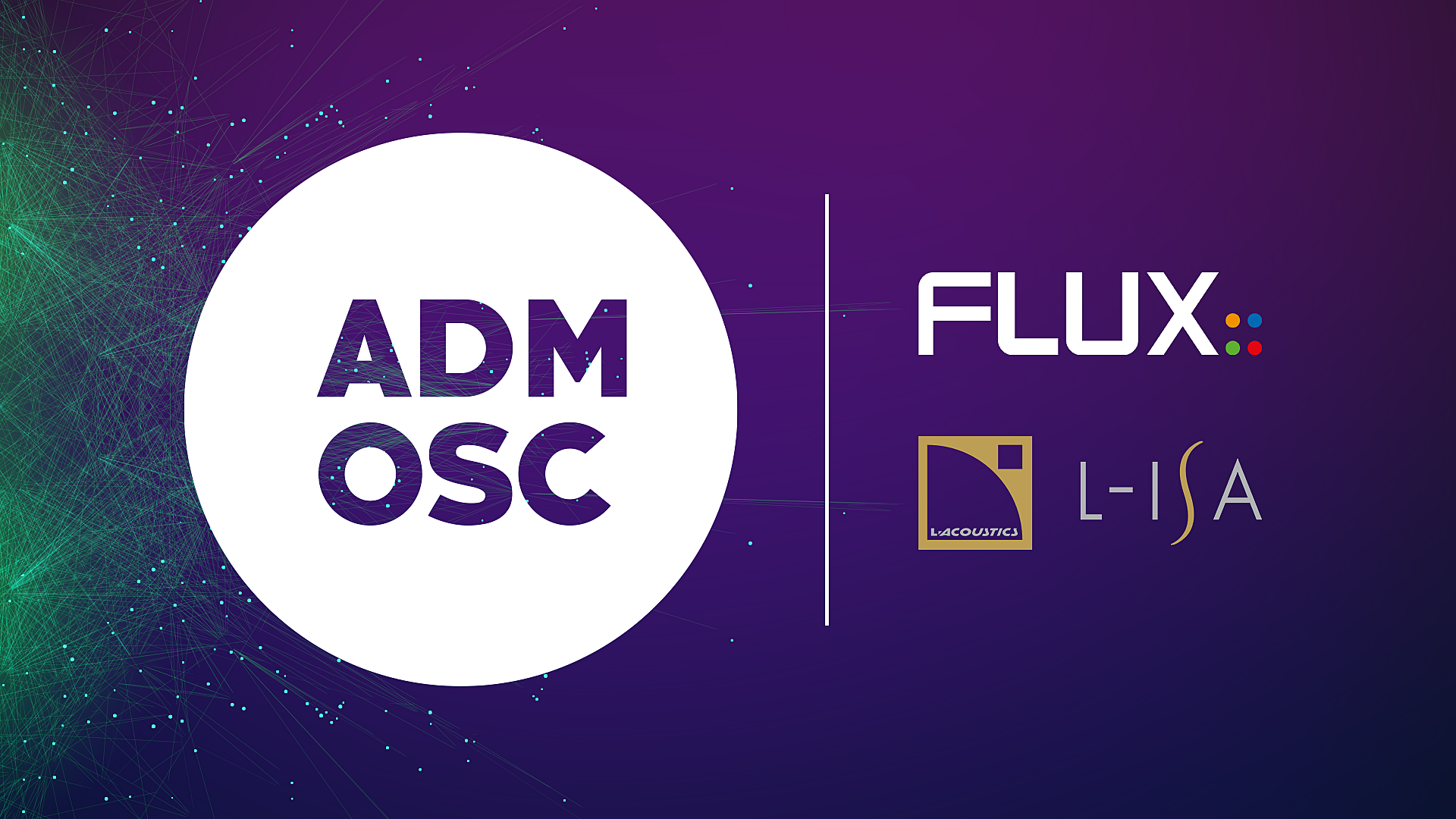 Marcoussis et Orléans, France – Octobre 2021
Aujourd'hui la consommation de divertissement étant avide d'expériences riches et immersives, l'audio immersif tend à devenir un élément central dans divers flux de travail de production. Cependant, la multiplication du nombre de plateformes et de langages de communication propriétaires a été une barrière à l'adoption généralisée de l'audio spatial, et un défi à l'interopérabilité entre les outils de production. En effet, pour citer une vieille blague de l'industrie technologique, l'avantage des normes, c'est qu'il y en a tellement.
Aujourd'hui, FLUX::Immersive, L-Acoustics, Radio France et d'autres fabricants majeurs de l'industrie ont rejoint une initiative visant à standardiser Open Sound Control (OSC) en tant que protocole de transmission pour l'interopérabilité des systèmes audio immersifs.
La norme ITU BS.2076-2 Audio Definition Model (ADM) est une solution pour l'archivage et l'interopérabilité des productions audio immersives. ADM-OSC fournit une implémentation qui suit la norme de l'ITU, permettant de diffuser en temps réel les informations de positionnement des objets audio en utilisant le protocole Open Sound Control.
En s'appuyant sur les expériences d'utilisation de Radio-France, FLUX:: Immersive et L-Acoustics ont uni leurs forces pour créer un langage commun afin de faciliter l'intégration des systèmes dans le processus de production.
"Depuis 2018, Radio France mène des expérimentations de productions de concerts de musique électronique réalisés en audio orienté objets", explique Hervé Déjardin, responsable de projets innovation audio à Radio-France.
"Ces essais ont mis en évidence le besoin d'un protocole commun entre les différents éléments de la chaîne.  L'objectif étant de pouvoir adresser les flux de métadonnées à différents moteurs de rendu sans passer par des traducteurs."
ADM-OSC propose un langage de communication universel entre les logiciels audio basés sur des objets pour le direct et la post-production. Un groupe de travail technique composé de spécialistes de l'industrie a été créé pour faire avancer cette proposition et collaborer sur les fonctionnalités. Ce groupe de travail a reçu le soutien de plusieurs fabricants et le langage ADM-OSC est actuellement mis en œuvre dans certains logiciels audio.
Comme l'explique Hugo Larin, FLUX: : Immersive Business Director : "Il n'y a rien de pire que d'essayer de construire un flux de travail intégré qui incorpore plusieurs fabricants et de finalement accouché d'un protocole de communication propriétaire. Nous avons senti qu'il était nécessaire d'adopter une communication commune, une grammaire commune, entre les acteurs de l'industrie."
C'est dans cet esprit que FLUX::Immersive a ajouté ADM-OSC comme option de communication OSC d'entrée ou de sortie dans sa plateforme SPAT Revolution.
"Notre expérience nous montre clairement les défis que représente l'intégration de plusieurs éditeurs d'objets et/ou de renderers fournissant divers formats de flux dans une production", observe Hugo Larin.
"Permettre aux outils d'interagir dans l'environnement du jour ou à différentes étapes d'un projet est l'une des choses que ce langage autour des objets audio peut brillamment réaliser."

Guillaume Le Nost, directeur exécutif de L-Acoustics, Creative Technologies, ajoute : "En tant qu'industrie, nous devons définir le flux de travail immersif pour permettre la prochaine génération de productions. Je suis très heureux de constater que de nombreux fabricants de produits audio professionnels ont réagi positivement à notre initiative, des stations de travail audio numériques aux systèmes de diffusion. J'ai vraiment hâte de créer un écosystème très solide, dans lequel les utilisateurs pourront facilement utiliser plusieurs moteurs de rendu audio en même temps, ou passer facilement à la post-production avec des fichiers ADM au centre de leur flux de travail. ADM-OSC n'en est qu'à ses débuts, mais les utilisateurs et les fabricants peuvent déjà essayer une première mise en œuvre d'ADM-OSC dans notre logiciel L-ISA Controller."

Un répertoire GitHub contenant les spécifications et un outil de test est disponible à l'adresse suivante : https://github.com/immersive-audio-live/ADM-OSC.

A propos de FLUX:: Immersive
FLUX: : Immersive s'est forgé une réputation de leader dans la création de logiciels de traitement audio avec l'idée maîtresse de concevoir des outils techniquement innovants et inspirants pour les ingénieurs du son, et sans compromis sur la qualité audio. La société a toujours été à l'avant-garde du développement de solutions logicielles pour l'industrie audio professionnelle, prenant notamment en charge le traitement multicanal, qui, depuis plus d'une décennie, est fréquemment utilisé pour l'enregistrement surround, la post-production de films, le son immersif en direct et en installation, et dans diverses autres applications.
A propos de SPAT Revolution
SPAT Revolution est un moteur de mixage audio immersif en temps réel à la pointe de la technologie, définissant l'art du mixage perceptif et orienté objet. Il permet de positionner intuitivement les sources audio dans l'espace, tout en permettant à la simulation acoustique de renforcer les impressions de profondeur et de localisation, indépendamment du format de sortie.
Conçu pour s'intégrer dans pratiquement n'importe quel flux de travail et doté d'une automatisation complète des paramètres de spatialisation, SPAT Revolution offre un large éventail de possibilités, permettant aux artistes, aux sound-designers et aux ingénieurs du son de concevoir, créer et mixer une expérience immersive exceptionnelle.
SPAT Revolution est le résultat d'un partenariat entre FLUX: : Immersive et l'institut de recherche français Ircam, créé pour mettre à la disposition du marché les vastes technologies développées.
About L-Acoustics
Founded in 1984 near Paris, France, L-Acoustics is the market leader in professional sound reinforcement technologies. With over 550 team members worldwide and offices in Paris, London, Singapore, Los Angeles, and New York, L-Acoustics is present in over 80 countries via our network of Certified Providers. Focused on solutions that elevate the audience experience, more than 20% of L-Acoustics' talent is devoted to R&D in the areas of acoustics, applications, mechanics, electronics, signal processing, and software development. In recognition of creating innovative professional sound technology, L-Acoustics was named as one of Fast Company's Most Innovative Companies of 2020.
Recognized for pioneering the line source array, L-Acoustics continues to shape the future of the professional audio industry with L-ISA Immersive Hyperreal Sound technology, a multidimensional, object-based approach to designing, mixing, and processing sound that results in extremely natural and intelligible audio, and a more vibrant, authentic connection between artists and their fans. Now also available for exceptional private sound spaces with L-Acoustics Creations designs.
L-Acoustics technologies can be heard in places like the Hollywood Bowl, Dickies Arena, Allianz Arena, home of Bayern Munich, or the Philharmonie de Paris, as well as the world's top-grossing festivals, and on tour with world-class artists such as Mark Knopfler, Aerosmith, and P!NK.
A propos de Ircam
L'Ircam, Institut de recherche et de coordination en acoustique/musique, est l'un des principaux instituts publics de recherche au monde dans les domaines de l'expression musicale, de la science de la musique, du son et de l'acoustique. Ces dernières décennies, l'institut a joué un rôle important dans le monde de la musique d'avant-garde et de l'art électroacoustique, grâce à ses innovations scientifiques et technologiques révolutionnaires, dont de nombreux concepts de musique électronique et de traitement audio.