Meung-Sur-Loire, France – January 2023
FLUX:: Immersive, pioneers in audio plug-in design, analysis, and immersive audio production tools, is today proud to announce the release of their 23.1 major plugin update. This plugin update includes the most supported formats from a software developer such as Avid Technology AAX (Native, DSP and VENUE), AU (Apple ®), VS3 (Merging Technologies) and VST2&3 (Steinberg)

This update provides update paths to users of ALL prior plugins and bundles ever made by FLUX:: . All plugins and plugin bundles purchased in 2022 will receive an upgrade at no charge, as part of the FLUX:: 1-year support and upgrade SLA contract.
The FLUX:: 23.1 plugin update includes ARM support with a universal binary, running on both Apple silicon and Intel-based computers. Beyond the long-awaited support for VST3, the plugins are now updated to the latest compatibility and include a scalable user interface allowing the user to define the aspect ratio in order to resize the plugin UI.

Multichannel being at the core of FLUX:: Immersive, 16-channel support is now offered for all processing plugins, with the exception of; Ircam Trax, Ircam Verb Session, and Stereo tools, which all remain in 2 channels. In addition, the recently updated True Peak limiter Elixir now supports 32 channels, enhancing the capabilities for multichannel production formats such as; Sony 360 ™, Dolby Atmos ™, Auro 3D Audio all the way to s NHK 22.2, and beyond.

New Plugin Bundles
The 23.1 plugin update is a major update which introduces two new plugin bundles. 
EVO:: Series Pack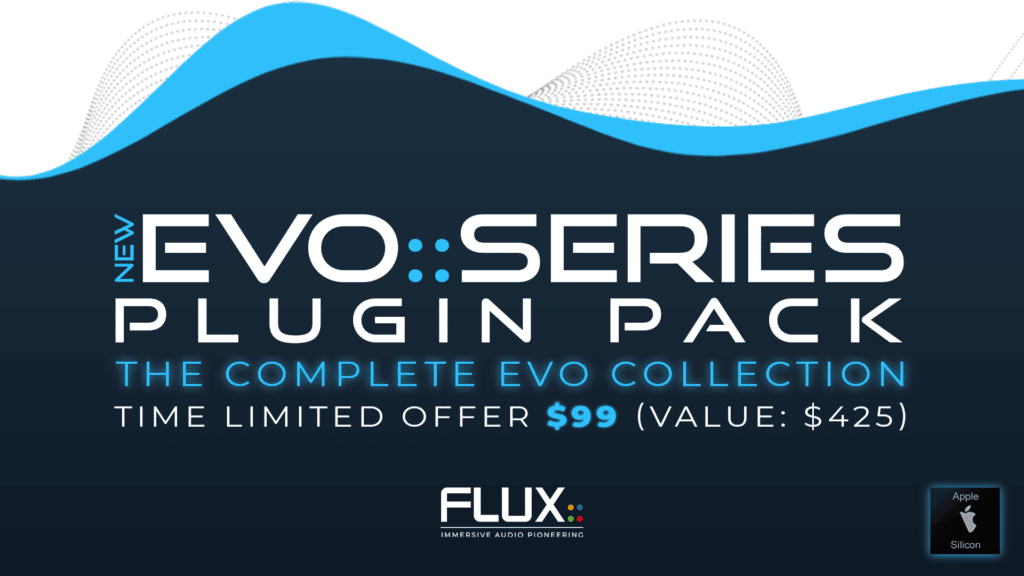 EVO Series Pack – The EVO Series Pack is based on the success of the EVO:: Channel, which is now complemented by EVO:: Comp, EVO:: EQ, EVO:: IN, and EVO:: Touch, 4 new modules available in all formats and compliant for Avid Technology AAX DSP / VENUE. All modules include the Unique EVO Drive system designed to add soft saturation and warmth to the source. Multichannel being at the core of FLUX:: Immersive, all EVO plugins support up to 16-channels.

MSRP: $149 / 145€
Introduction Offer: $99 / 95€

PRODUCT PAGES
https://www.flux.audio/project/evo-series/
https://www.flux.audio/project/evo-series-pack/


Ultimate Plugin Pack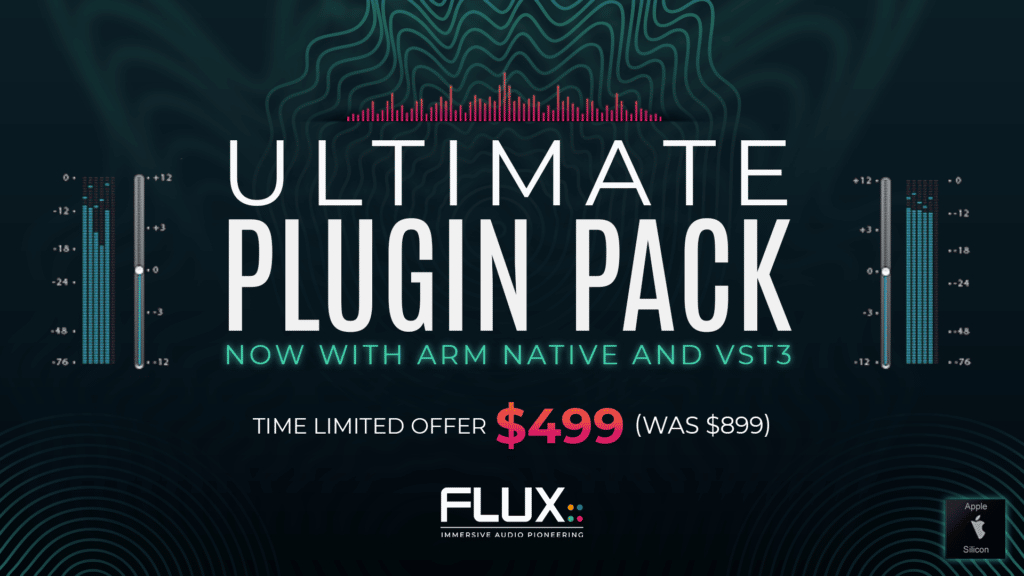 FLUX:: Ultimate Plugin Pack – The FLUX:: Ultimate plugin pack supersedes the Full Pack 2.2 and now includes all FLUX:: Series plugins, EVO:: Series (5 plug-ins), Ircam Verb, Ircam Verb Session, and Ircam HEar. A plugin bundle of a total value of $1,686, now offered at a more competitive price than ever.

MSRP: $699 / 679€
Introduction Offer: $499 / 485€

PRODUCT PAGE
https://www.flux.audio/project/ultimate-plugin-pack/
All FLUX:: latest releases, including the FLUX:: Center, are supported  on mac OS 10.14 (Mojave)to OS 13.1 (Ventura) or Windows 10 & 11 64 bit.  The legacy 21.12  version, and prior versions, remain available in the FLUX:: Center.New FLUX:: Center is available here https://www.flux.audio/download/

All release information can be found here
https://www.flux.audio/flux-23-1-plugin-update/
About FLUX:: Immersive
FLUX:: Immersive has established a reputation as a leader in the creation of audio processing software, with the core idea to design inspiring technically innovative tools for sound engineers, with no compromise on the audio quality. The company has always been at the forefront of the development of software solutions for the professional audio industry, supporting multichannel processing, which for over a decade has been frequently used for multichannel surround recording, movie post-production, immersive live & installation sound, and in various other applications.