How to use an non-listed Ambisonic microphones into SPAT Revolution?
Into SPAT Revolution, it is possible to use an Ambisonic microphone as input.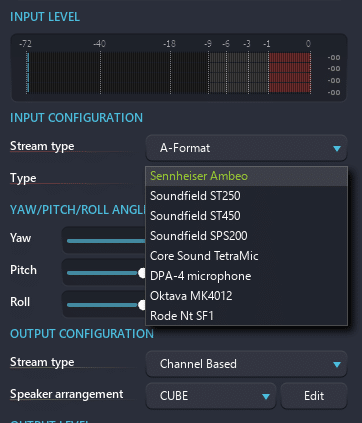 SPAT Revolution only accepts 1st order microphones. Most of the time, ambisonic microphones output A-Format, which is a raw format (not encoded). Accepted microphones are grouped into two groups, defined by the channel order:
Type I, represented by TSL Soundfield (ST250, ST450, SPS200), Core Sound TetraMic, Sennheiser Ambeo, and Rode NT-SF1 microphone. The channel order is Front Left Up, Front Right Down, Back Left Down, and Back Right Up.
Type II, represented by DPA-4 microphone and Oktava MK4012. The channel order is Front Left Down, Front Right Up, Back Left Up, Back Right Down.
Note that some recording devices like the Zoom H2n could output B-Format or HOA.
Careful: Selecting a microphone of the dedicated may not be optimum be could be simpler to test. We strongly recommend using the company plugin or software to encode the audio data in B-Format or HOA 1st order AmbiX.
If your microphone is not listed but has the same channel order as the one before, you can use one similar microphone temporarily, and contact us: you can provide information to help us to complete the list.